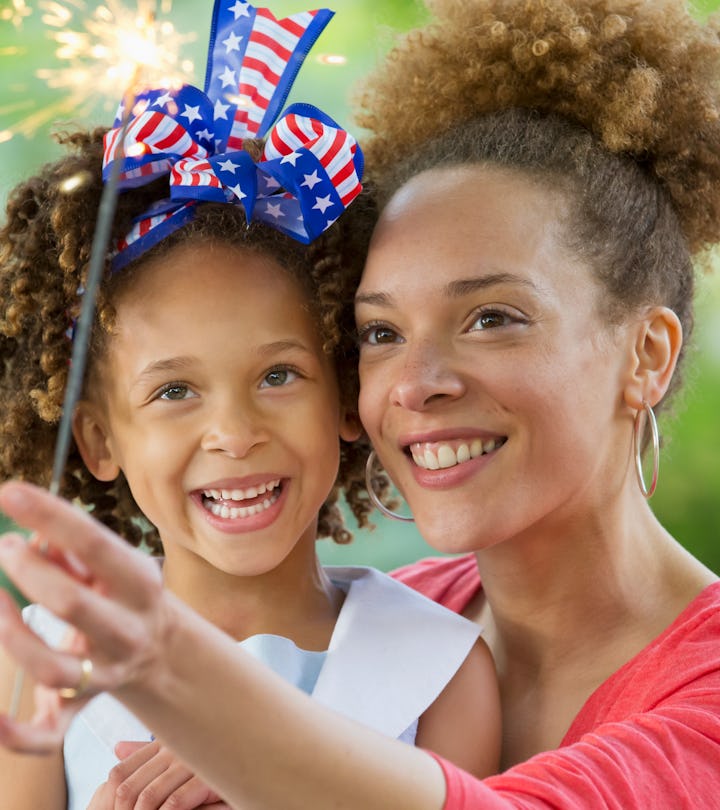 Ariel Skelley/DigitalVision/Getty Images
15 Fun & Historical 4th Of July Facts To Share With Your Kids
Like how many hot dogs Americans eat each year — it's a lot.
The Fourth of July is typically celebrated with a flurry of patriotism on full display across America each year — fireworks, barbecues, parades — and red, white, and, blue everything — marks the occasion. But aside from all of the pomp and circumstance, there are plenty of Fourth of July facts to share with your kids to help them learn more about Independence Day.
Whether you read books about Fourth Of July together, watch documentaries, or recap what your kids learn in history class, most parents can easily regurgitate why Americans celebrate The Fourth: The holiday marks the occasion of the 13 original colonies' proclamation of independence from Great Britain in 1776 with the signing of The Declaration of Independence. It's essentially a celebration of when America as we know it today made a formal break from English rule.
While these facts can help kids understand the reasons why America's birthday is worth celebrating, some of them are also just plain fun and interesting — like, who knew Americans consume upwards of 150 million hot dogs each Fourth of July? Read on to see what other fun Fourth of July facts you can share with your kids above and beyond how to dress your entire family in matching stars and stripes. (Although that sounds like a great plan, too, TBH.)
Share these Fourth Of July facts with the younger generation this July Fourth weekend.
This article was originally published on