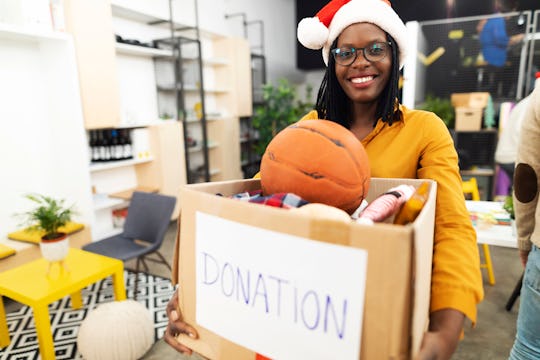 SrdjanPav/E+/Getty Images
Here Are 5 Easy Ways To Donate Toys For The Holidays This Year
Because the need has never been greater.
With COVID cases rising and unemployment still plaguing the country, for some, this year's holiday season is looking grim. Many parents are struggling to figure out how to put food on the table and presents under the tree. Under "regular" circumstances, people wanting to help would seek out toy drive bins or Angel Trees as ways to donate gifts, but with close contact still strongly discouraged, many of the more familiar ways to contribute aren't feasible this year. So organizations are getting creative. Such is the case with these 5 ways to donate toys this year.
In the same way businesses have evolved to meet social distancing protocols by shifting sales online or offering curbside pick-up, so too have these organizations all with the goal of collecting toys for needy children. Each campaign is different, but all are utilizing the internet to fulfill their mission. And, from the nonprofit representatives Romper spoke with, all of these organizations are bound and determined to make as many children's Christmases a little bit brighter. "For the past several years, we've served 7 million kids with about 18 million toys," says Kelley Hardison Deputy, VP, Marketing & Development for Toys for Tots. "We anticipate the need being much greater this year."
Whether it's $5 or $500 you're looking to give this year, any amount will make an impact in a child's life and could be the difference between finding something and nothing under the tree this year.