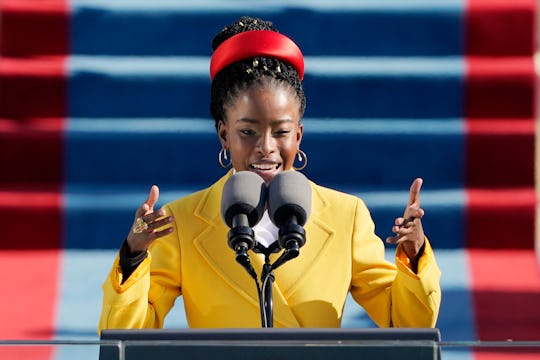 Pool/Getty Images News/Getty Images
Florida School Bans Amanda Gorman's Inaugural Poem After One Parent Complained
The poet says she is "gutted" after young readers at a Miami-Dade grade school were effectively restricted from accessing her historic work.
When Amanda Gorman read her poem The Hill We Climb at President Joe Biden's inauguration in 2021, she was an instant sensation. The raw but hopeful tone of her work was made even more poignant, it seemed, by her youth; at 22, she was the youngest person ever to share their work at a presidential inauguration. But now, the poem's message of unity and healing is one many students in Miami-Dade County will not be able to access at school: Gorman's poem was banned, effectively, from grade school readers at Bob Graham Education Center in Miami Lakes after one parent filed a complaint.
Daily Salinas, a parent of two children at the school with apparent ties to far-right activism in Florida, submitted four complaints (which were posted by the Florida Freedom to Read Project) in addition to the one pertaining to The Hill We Climb: The ABCs of Black History, Cuban Kids, Countries in the News: Cuba, and Love to Langston. Salinas wrote that they objected to the book because "[it's] not educational and have indirectly hate messages [sic]" specifically citing pages 12 and 13 of the poem. They went on to say they believe the function of the book was to "cause confusion and indoctrinate students." They also incorrectly listed The Hill We Climb as being written by Oprah Winfrey. (Winfrey wrote an introduction.)
Incidentally those pages read...
We've braved the belly of the beast.
We've learned that quite isn't always peace,
And the norms and notions of what "just is"
Isn't always justice.
And yet the dawn is ours before we knew it.
Somehow we do it.
Somehow, we've weathered and witnessed
A nation that isn't broken, but simply
unfinished.
"I am gutted," Gorman responded on Twitter. "I wrote The Hill We Climb so that all young people could see themselves in historical moment. Ever since, I've received countless letters and videos from children inspired by The Hill We Climb to write their own poems. Robbing children of the chance to find their voices in literature is a violation of their right to free thought and free speech."
To understand how this was allowed to happen in the first place, one must understand a slew of new laws that have fundamentally shifted the way public education works in the state of Florida. Under the banner of "Parents' Rights," Florida Republicans have promoted a number of bills, including HB 1557 (frequently referred to as "Don't Say Gay") and HB 7 (Stop W.O.K.E.) to limit what could be taught or discussed in Florida classrooms, taking particular aim about books and other materials pertaining to race, gender, sexuality, social justice, and social-emotional learning.
In March 2022, Gov. Ron DeSantis signed HB 1467. This law not only limits the scope of materials permitted in a classroom, but asserts that materials can only be approved by a trained media specialist, usually a school librarian, prompting some schools to have teachers' make their personal classroom libraries inaccessible until all books had been "vetted," lest they run afoul of the law.
The law also states that a list of all materials must be available to the public, as well as a form that could challenge any materials as inappropriate. This form — which the law states must be readily available and easy to read — can be filed with the district by anyone in the district, whether or not they have a child in the schools.
While the book was not, as the complainant suggested, banned from the school (a point Miami-Dade Schools was keen to point out on Twitter) they were relegated to the school's middle school section (Bob Graham Education Center runs from kindergarten to eighth grade). The same fate befell The ABCs of Black History, Cuban Kids, and Love to Langston, all of which are intended for grade school readers.
While the books have not been officially banned, PEN America notes that 566 books in Florida have either been banned in schools or classrooms, or are de facto banned pending further investigation.