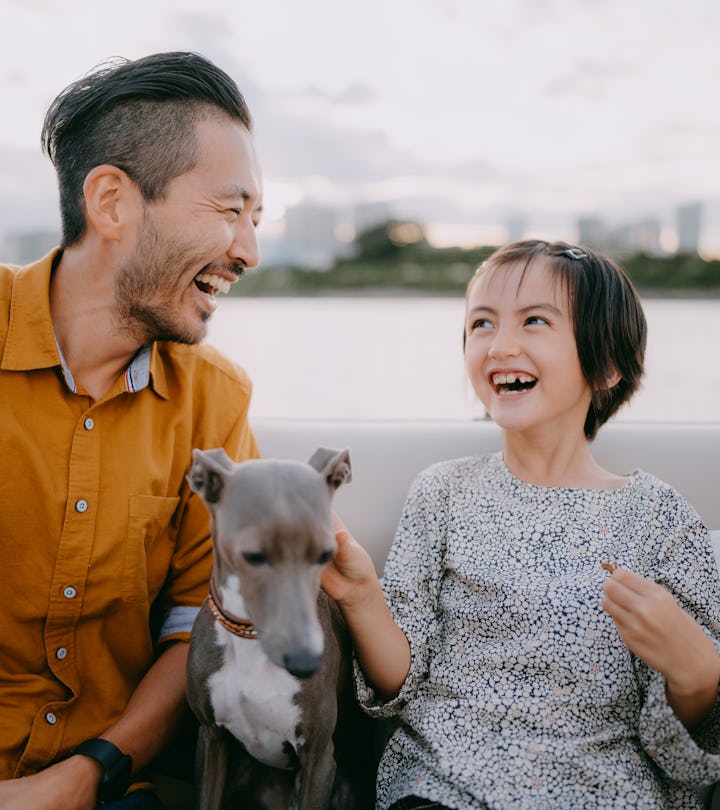 Ippei Naoi/Moment/Getty Images
15 Sweet April Fool's Dog Pranks To Pull On Your Pup
Your dog probably doesn't suspect much of anything in general, tbh.
Even though they can't read a calendar, there's no reason you can't pull a (very gently, good-natured) prank on your dog this April Fools' Day. Sure, playing a joke on a creature who can't return the gesture might be a little low, but there's nothing wrong with a little lighthearted fun — your four-legged best friend can take it.
Most of these silly April Fools' ideas for dogs are super easy if you know their personalities, because every pup is afraid of or disturbed by something. For instance, my dog can't tell the difference between a real fight and a fake one, so he jumps to my defense whenever one of my family members pretends to wrestle me or hugs me a little tighter than he's comfortable with. (Isn't it great to know chivalry isn't dead?) Each doggo has actions that upset or rile them up, so the more time you spend with your pooch, the easier it will be to have a little fun with them.
However, you want to be sure you aren't playing any practical jokes that lead your dog to believe they can't trust you. Be sure you're having fun with them, not hurting them, and not messing with them regularly. There are some tried and true pranks any dog owner can pull to get a rise out of their furry friend. Read on for 13 of the best pup pranks, and start plotting ASAP. Just make sure to give them extra treats and cuddles when you're done so they know you love them and you're just playing. Happy pranking!
Whatever trick you decide to do, make sure it's all in good fun and don't leave your pup hanging afterwards. Give him or her lots of love for being the good sport that they are.
This article was originally published on