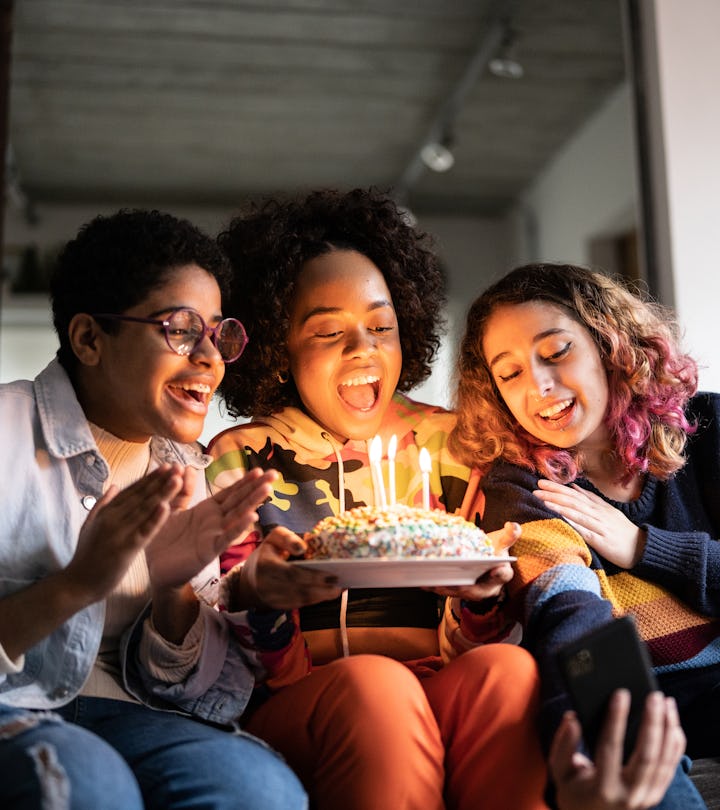 FG Trade/E+/Getty Images
35 Aquarius Instagram Captions To Celebrate Your Special Season
Water bearers, your 2023 Aquarius horoscope says this is expected to be a year of having tough conversations and getting your finances in order. So, while it's Aquarius season (January 19 through February 18, for those who aren't familiar), take some time out to celebrate your birthday, and the entire month, in a way that feels exciting or meaningful to you. And if you feel like sharing the memory, consider these Aquarius Instagram captions when you're wondering what to type into that big empty caption box.
Aquarius birthday captions
Are you celebrating with friends or family, out on the town? Or, are you keeping it low-key and inviting a few close pals over for drinks and cake? However you choose to party this year, take some photos to remember it by, and share the Aquarius way: with a totally creative caption.
This water bearer's cup runneth over this year.
I might be a water bearer, but could you pour some champagne in this thing?
"Advice from an Aquarius: Do your own thing."
"If you don't have an Aquarius friend yet, I'll happily be yours."
Spent the day getting into good trouble.
Always changing, always evolving. And today, celebrating!
As a nontraditional Aquarius, of course my birthday was a little different from most.
Sitting and talking for hours with my besties? Kind of an Aquarius' birthday dream come true.
I was hoping to lead a revolution for my birthday, but I guess cake will have to do.
Life is too short to blend in, and I'm not going to start on my birthday.
"I have a fear of being boring." — Christian Bale
Aquarius season captions
Want to clue everyone in on what it's like to be an Aquarius? Inspire them to learn from all your sign's best characteristics during this year's Aquarius season (being a free thinker, going with the flow, and wanting to change the world to name a few).
"It is better to fail in originality than to succeed in imitation." — Herman Melville
"Intellectual growth should commence at birth and cease only at death." — Albert Einstein
"This is the dawning of the age of Aquarius." — "Aquarius/Let The Sunshine In" by The 5th Dimension
"Curiosity is one of the great secrets of happiness." — Bryant H. McGill
What other signs could learn from Aquarius: setting boundaries and actually keeping them.
"Be yourself. Everyone else is already taken." — Oscar Wilde
"When we live in a world that is very unjust, you have to be a dissident." — Nawal El Saadawi
"Life's most persistent and urgent question is, 'What are you doing for others?'" — Martin Luther King Jr.
"It's no good being too easily swayed by people's opinions. You have to believe in yourself." — Donatella Versace
"A creative life is an amplified life. It's a bigger life, a happier life, an expanded life, and a hell of a lot more interesting life." — Elizabeth Gilbert
Quotes about Aquarius
Want to borrow your words from the experts? Plenty has been written about the inner workings of Aquarians. Check out these quotes about being an Aquarius straight from books, interviews, and more.
"Aquarians are known to be ahead of their time, which can translate to 'weird' if you're not as woke as them. Tip: Get on their level." — Emmalea Russo
"Aquarians don't have the time or patience to concern themselves unduly with etiquette book-type good manners. They have something more important—good hearts." — Linda Goodman, Love Signs
"The Aquarian water bearer likes everybody. Everyone is his friend." — Linda Goodman
"An Aquarius female is rebellious, headstrong, and contrary. She can be selfishly independent and exasperating, especially when she is running through the house screaming, freedom!" — Hazel Dixon-Cooper
"An Aquarius isn't a rebel with a cause; they are the cause." — Jake Register
"Aquarians are sort of unorthodox, original people—sort of wacky, witty mad-caps who refuse to follow the crowd and go their own way." — Joanna Martine Woolfolk
"Aquarians have a tendency to get into unusual situations and take up with oddball individuals." — Joanna Martine Woolfolk
"I am a man that is unique to the world. That is the kind of star I was born under — on the cusp of Capricorn and Aquarius." — Jose James
"Aquarians are unique, fascinating, and independent. They are born humanitarians and want to be everyone's best friend. Blessed with original insights, they are progressive in thought and spirit, opening new doors for us all." — Christine Rakela, The Love Relationship Formula
"I wanna say I am detached but I am an Aquarius that is sensitive as hell. That's dope though." — Denzel Curry
"As an Aquarius, I have many thoughts, so I hope you don't mind that I go off on a little tangent right now." — Ashley Flores
"An Aquarian will be a genius, if he will not cross the line separating it from eccentricity. His personality will be the perfect symbol of an odd mix of frostiness, realism, and unconventional volatility." — Shanker Adawal
"To win an Aquarian's trust, don't try to reign in their quirks or keep them from flying their freak flag high. Aquarius thrives on shock value." — Aliza Kelly
"An Aquarius will stick by their beliefs even if it means standing alone." — Unknown
How will you caption your birthday party pics this year? Even if it's a simple selfie at home with your pet, you deserve a little love and recognition during Aquarius season.