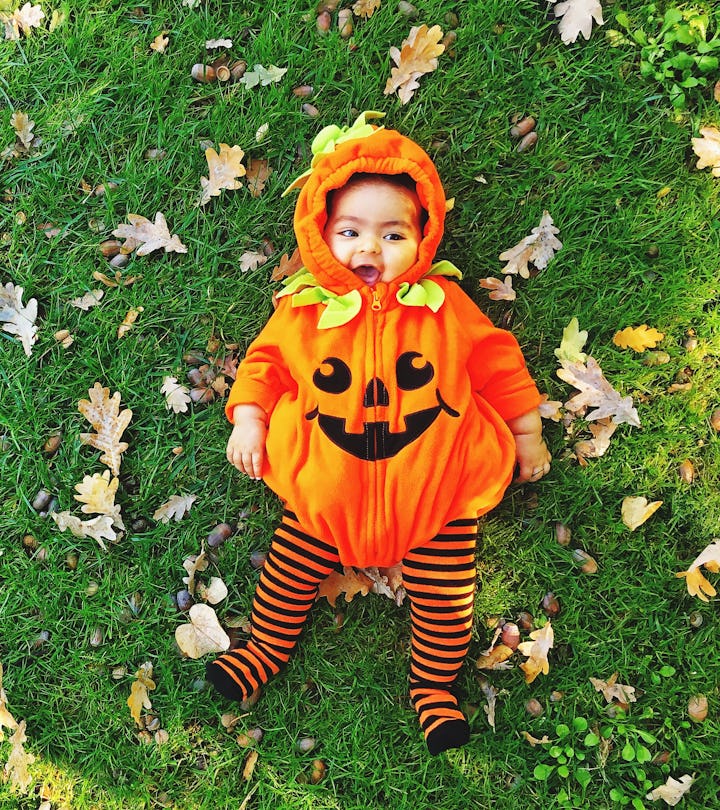 Antonio Silva / EyeEm/EyeEm/Getty Images
30 Baby Halloween Costumes, From Animals To Avocados
There's something for every family here.
Whether they're only a few weeks old or a few months old, you probably want your baby's first Halloween to be as memorable as possible. They might not be able to truly appreciate trick-or-treating, eat any Halloween candy, or go to a party without falling asleep in their stroller a few minutes in, but that doesn't mean they have to be left out of all the festivities. The best way to make your little one's first Halloween special is to get them an adorable baby Halloween costume that will help to create the perfect photos (whether they're napping or awake).
And when it comes to baby Halloween costumes, there are so many sweet options. You could dress them up as their favorite food — an avocado, perhaps — or you could opt for a cute animal, like a cat or a little lamb. You could always go for a classic favorite like a pumpkin, or you could try something a little bit different — think Beetlejuice or a spooky werewolf. We've rounded up all of these options and more so that you can find the best costume for your baby, whether they are still a tiny little newborn, an infant just starting to focus their eyes, or a baby sitting up and chewing on everything they can reach. Check them out below… and good luck on picking just one. They're very hard to resist.
We may receive a portion of sales if you purchase a product through a link in this article.
Whether you go for the cute and fuzzy animals or the fun and unique options, you can't go wrong. A Halloween costume on a baby is always going to be memorable!
This article was originally published on