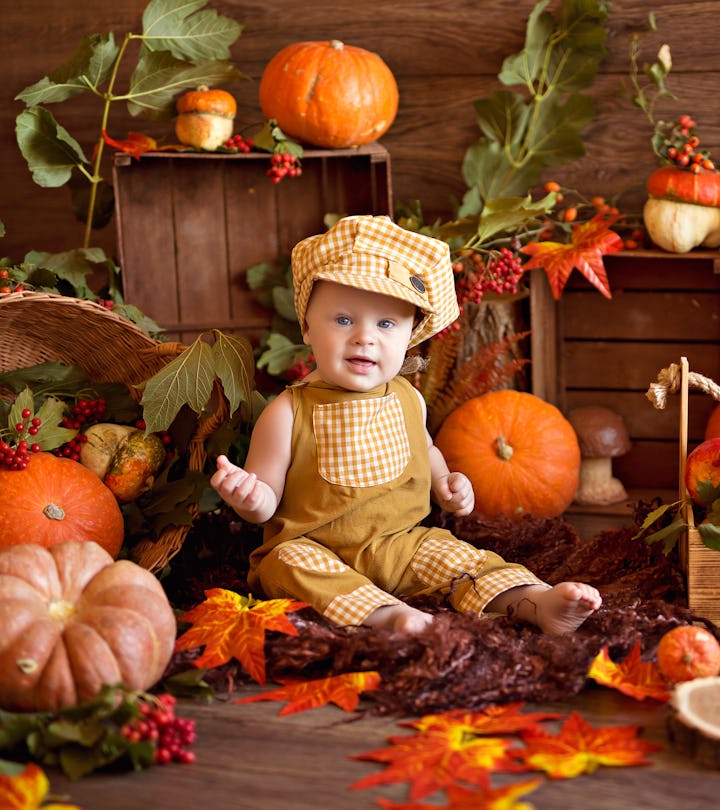 Shutterstock
15 Ways To Celebrate Baby's First Thanksgiving
This sweet milestone deserves to be marked.
Let's be real: Halloween and Christmas tend to hog much of the spotlight in terms of "Baby's First" holiday experiences. We get so hyper-focused on dressing our infants like plush lobsters, or on assembling the perfect Montessori-approved toy wish list, that we often don't make much of a fuss over Baby's first Thanksgiving Day. But we should. It's a special one, too. That's why I've rounded up some sweet and memorable ways to mark your baby's first Thanksgiving.
Thanksgiving is actually kind of a lovely holiday for new parents. I mean, it's all about gratitude, after all. A what could you possibly feel more grateful for than this amazing, brand new, beautiful and drooly person you're holding in your arms? Thanksgiving can be a wonderful excuse to pause the daily grind of it all — the diapers, the midnight wake-ups, the teething fuss — and simply be grateful for the presence of this little human in your home. A little human who wasn't even here last year at this time. What a thought. Plus, Thanksgiving with babies is terrific because babies don't have opinions on the midterm elections or your new haircut. Which, depending on your family, may make them the easiest person to chat with at the Thanksgiving table.
Below are 15 suggestions for marking this very special first for baby, and making this cozy holiday extra-memorable.
No matter what you do this Thanksgiving, just be sure to pause from the Instagramming and photos and general family chaos, and take a moment to take it all in. Take in your new family. Eating pie together, for the very first time. Happy Baby's first Thanksgiving!
This article was originally published on