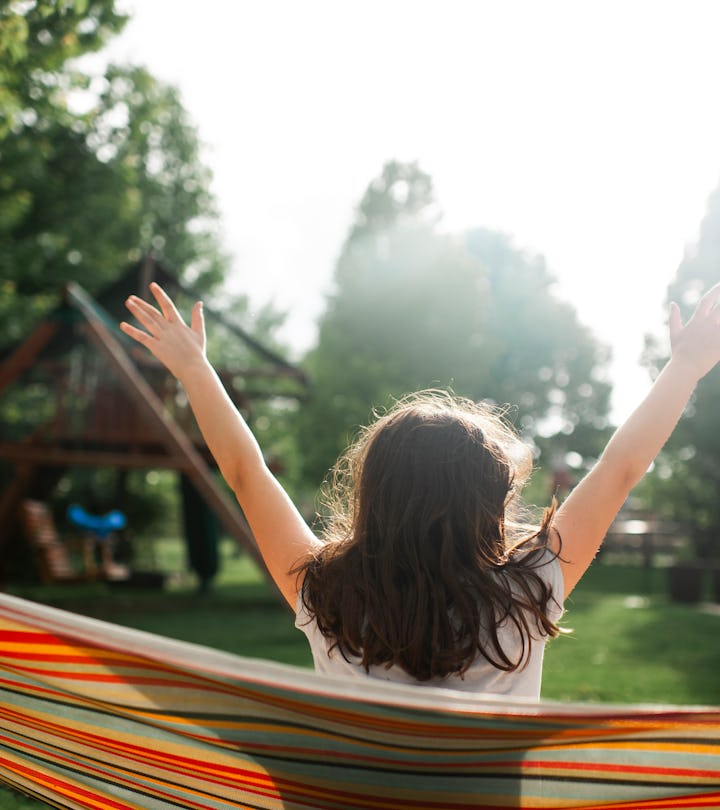 Cavan Images/Cavan/Getty Images
How To Turn Your Backyard Into An Oasis For Kids
Transform your outdoor space with these fun additions.
No matter what age your kids are, some time outdoors can work wonders in terms of inspiring them to move their bodies and explore nature. Getting outside just feels good, right? But sometimes, kids need a little encouragement to actually spend more than a few minutes under the blazing summer sun. (The same goes when there's a chill in the air and they have to bundle up.) Wondering how to turn your backyard into an oasis for kids? This list of ideas can transform your space with outdoor toys, kid-sized furniture, and more.
Of all of the spaces in your home for kids to exist, your backyard likely has the most real estate for kids to romp around, explore, and just be kids. Even if that doesn't hold true for your yard, there are still some great, space-saving tips and products on this list. You can absolutely transform your patio, porch, deck, or driveway into a fun, kid-friendly zone where they can soak up some sun and enjoy time outdoors.
Since every backyard — and every kid — is different, this list is definitely not inclusive of all things to make your backyard a kid oasis available out there. You won't find any trampolines or pricey swing sets here. However, it's a great starting point if you're looking for inspiration to encourage your children to spend more time playing outside without breaking the bank.
We at Romper only include products that have been independently selected by our editors. We may receive a portion of sales if you purchase a product through a link in this article.
Whether you decide to deck out your outdoor space with toys and games or create some ambiance with twinkle lights and cozy seating, these things can make your backyard a kid oasis to enjoy for years to come.