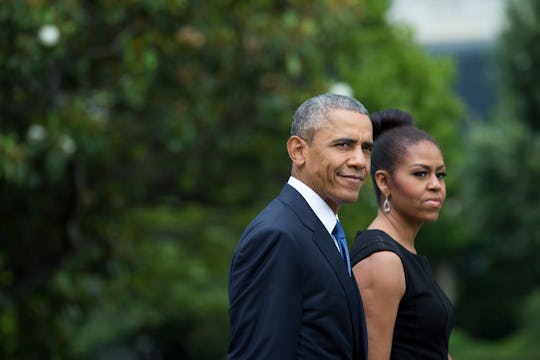 WHITE HOUSE POOL (ISP POOL IMAGES)/Corbis News/Getty Images
Obamas Issue Powerful Statements After Supreme Court Ends Roe v. Wade
"The Supreme Court not only reversed nearly 50 years of precedent, it relegated the most intensely personal decision someone can make to the whims of politicians and ideologues."
The Supreme Court officially overturned Roe v. Wade on Friday. This was exactly what abortion rights activists have been worried about in the weeks since a leaked majority draft opinion written by Justice Samuel Alito expressed that very intent. It is a bleak day for abortion rights across the country, as former President Barack Obama and First Lady Michelle Obama pointed out, the bleakest in 50 years.
Roe v. Wade was a landmark decision made by the Supreme Court in 1973 to protect a person's right to legal abortion access. This has been the law of the land for the past five decades, yet somehow in 2022 the basic human right to have autonomy over your own body has been overturned. Millions of Americans are outraged over the decision, and President Obama is one of them.
"Today, the Supreme Court not only reversed nearly 50 years of precedent, it relegated the most intensely personal decision someone can make to the whims of politicians and ideologues—attacking the essential freedoms of millions of Americans," Obama wrote in response to the Republican-majority's Supreme Court's decision on Friday.
Obama went on to note that a reversal of reproductive rights has already begun across the country, and people need to rise up to protect those rights. "Across the country, states have already passed bills restricting choice. If you're looking for ways to respond, @PPFA, @USOWomen, and many other groups have been sounding the alarm on this issue for years—and will continue to be on the front lines of this fight."
Michelle Obama also issued a statement on the archaic 6-3 decision by the Supreme Court, writing in part, "I am heartbroken – for the teenage girl, full of zest and promise, who won't be able to finish school or live the life she wants because her state controls her reproductive decisions; for the mother of a nonviable pregnancy who is now forced to bring that pregnancy to term; for the parents watching their child's future evaporate before their very eyes; for the health care workers who can no longer help them without risking jail time."
The Obamas have been speaking out about the Supreme Court's plan to overturn Roe v. Wade since Politico first reported the news in May. "The consequences of this decision would be a blow not just to women, but to all of us who believe that in a free society, there are limits to how much the government can encroach on our personal lives," the Obamas wrote in a joint statement for Medium. "And this decision is unlikely to significantly reduce abortions, which have been steadily going down over the past several decades thanks in large part to better access to contraception and education."
"Instead, as we've already begun to see in states with restrictive abortion laws, those women with means would travel to states where abortion remains legal and safe," their statement continued. "Meanwhile, those without enough money or access to transportation or ability to take off from school or work would face the same circumstances most women faced before Roe, desperately seeking out illegal abortions that inevitably pose grave risks to their health, their future ability to bear children, and sometimes their lives."