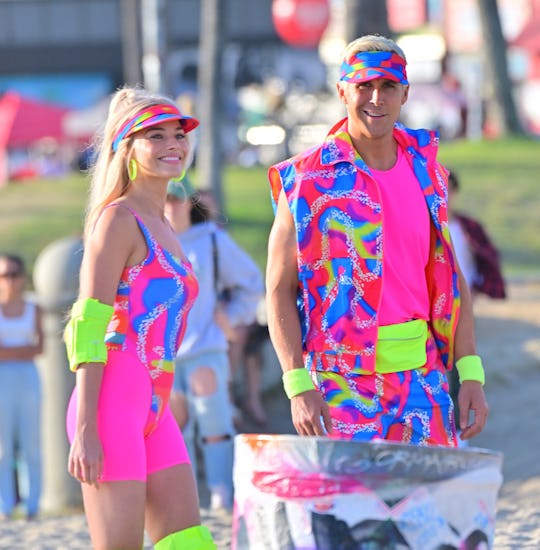 MEGA/GC Images/Getty Images
These Barbiecore Products Are Just As Fun & Pink As They Sound
It's hard to miss the internet's new favorite aesthetic: hot pink everything— aka Barbiecore. The trend was likely inspired by a confluence of events: fun colors are always welcomed when times are feeling dark, plus there was a steady stream of photos released of Margot Robbie as Barbie from Greta Gerwig's upcoming Barbie movie (out summer 2023). Celebs from Lizzo to Anne Hathaway to Heidi Klum have been spotted in the perky shade, and according to data from Pinterest and Klarna, searches for the Barbie-inspired color are way up. If you've been wanting to try it out for yourself, these Barbiecore products are for you.
What is Barbiecore?
When it comes to the Barbiecore trend, think pink (and blue and purple). Barbiecore simply involves embracing bright, mostly poppy pink bubblegum hues in everyday life with makeup, fashion, home decor, and whatever else you can get your hands on. One of the best things about color as trend is that there's so many ways to get in on the fun. You could go big with a fully pink outfit, or start small with nails or a fuschia eyeliner, or even something off your body, like a phone case or blender. Once you try it, you may be surprised by how wearable this shade of pink really is (and how great you feel wearing it).
From jeans to sunglasses, scarves to lipsticks, come on Barbie, let's go shopping because we've rounded up some fun Barbiecore products that will have you thinking pink.
We may receive a portion of sales if you purchase a product through a link in this article.
The Barbiecore trend is likely here to stay for awhile (after all, the much-anticipated movie isn't out until summer 2023). Whether you want to rock a full fuschia outfit or keep it tame with some rosey accessories, you can't go wrong with these Barbie-inspired products.