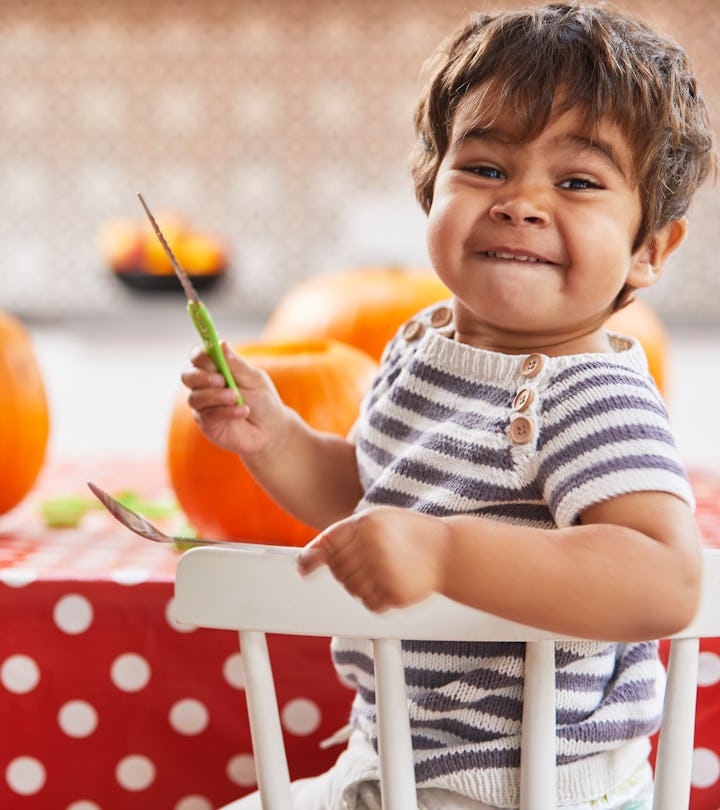 Sverre Haugland/Image Source/Getty Images
14 Easy Pumpkin Carving Ideas For Beginners
Yes, your porch can look awesome this year.
We have all walked by those houses during Halloween season. You know the ones, where the pumpkins are intricately carved and truly eye-popping. There are so many creative designs that leave you reaching for your camera and wondering at the artistry that a person can show with just a simple carved pumpkin. For the less artistically-inclined among us, though, all of this carving magic can leave us feeling a bit discouraged. But fear not — these Halloween carving ideas for beginners are truly easy enough for anyone to pull off.
Pumpkin carving is one of those things that seems like you ought to be able to do — how hard can it be? But the image of the adorable pumpkin you had in your head when you started carving might not match the slightly askew face that's staring back at your from your orange companion once you're done. I've only ever tried to make the basic jack-o'-lantern, with the triangle eyes and open mouth, and I've never really surpassed making a pumpkin that looked like it was carve by a small child. This year, these super easy pumpkin carving ideas and easy design templates will help you display your pumpkins with pride. Just like there's nothing wrong with having an easy Halloween costume, there's no shame in going the easy route with pumpkins. The important thing is that you have some Halloween fun.
Beginner Pumpkin Carving Tips
Get an actual pumpkin carving kit.
Sure, you have kitchen knives around, but pumpkin carving kits will have the precise serrated knife and the right type of spoon for getting the seeds and goop out of that gourd. Buy it once, pull it out every Halloween — it's worth the (small) investment. If you don't want to get the kit, make sure that you use a super-sharp knife — particularly bigger pumpkins can have very thick skin.
It's much easier to make sure your design is the right size and shape when you draw it on the pumpkin with a washable marker first. Wash and dry your pumpkin thoroughly, and then get sketching.
Think beyond the "face" designs.
Designs that are supposed to look like faces are the least forgiving, and can quickly tip over into weird-looking territory. Making letters, patterns, or shapes can help you get a cool-looking pumpkin without trying to get symmetrical-looking face.
Don't carve more than a week in advance.
Even if the weather turns cooler, it's best to wait until pretty close to Halloween if you want your pumpkins to stay fresh for trick-or-treaters.
Don't worry if it's not perfect.
Most of us aren't Pinterest-worthy crafters, and most of us aren't good at things we only do once a year. Pumpkin carving is more about the process than the product. Just have fun with it.
There's so much pressure for everything crafty that we do as parents to be Pinterest and Instagram-worthy, and to have the most impressive pumpkins on the block. But really, that's not what our kids are going to remember. What they will remember is if you throw yourself into the project, and display whatever the results are with pride. Happy Halloween!