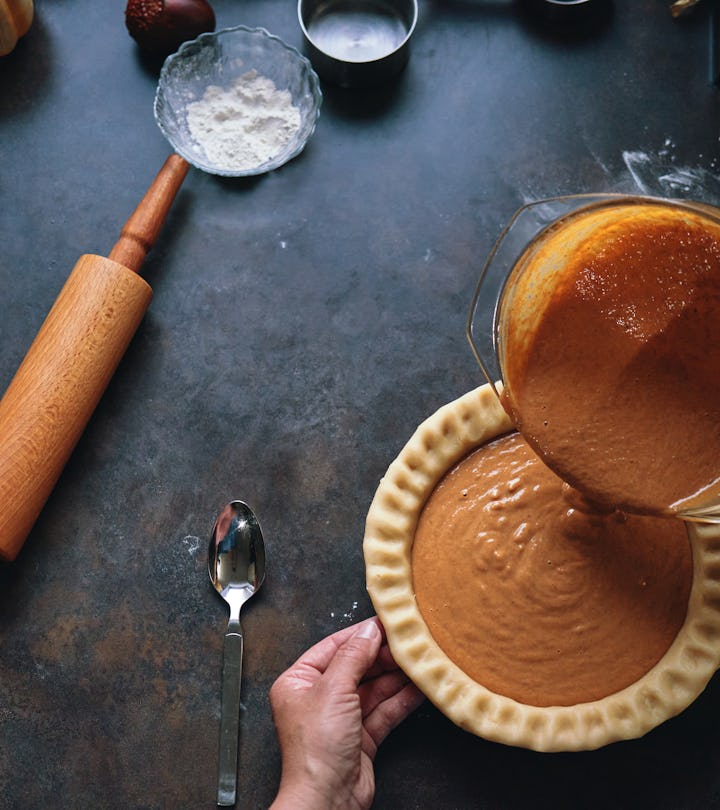 GMVozd/E+/Getty Images
The Best Drinks To Pair With Pumpkin Pie
The essential Thanksgiving question, answered.
Pies are the best part of Thanksgiving, but the adult alcoholic beverages are a close second — sorry to the turkey lovers out there. If there's ever a day that many of us are grateful for the social lubricant that is wine and whiskey (and everything else), it is Thanksgiving. It's a lot easier to talk to your opinionated uncle about the best wine with pumpkin pie, than say, politics. You'll probably start the meal with bubbly, maybe follow that with red wine during dinner, but wait — what alcoholic drink pairs best with pumpkin pie? We asked the experts — a sommelier and a bartender — to find out the definitive answer to exactly what drinks you should serve with that gorgeous pumpkin pie.
Pumpkin pie & alcoholic drinks: Do they go together?
They definitely do, if you want to serve alcohol with pumpkin pie. By pie time, you might be ready for something a bit stronger than wine to finish the meal. But, there's no exact right or wrong answer about exactly which alcoholic drink you should serve with pumpkin pie, says Tommy Klus, owner of Scotch Lodge, a whiskey bar in Portland, OR. Rather, it's more about what you like and what you have on hand. "Things that come to mind are black strap rum (for its molasses), whisky from the highlands with little-to-no peat, or apple cider," Klus explains.
Another direction might be to serve the pie with port or cognac. If you'd like to offer non-alcoholic options, coffee and pie make a great pair. Most of all, though, Klus encourages Thanksgiving revelers to "just have fun with it!" Always great advice, especially for the holidays.
The best wine with pumpkin pie, according to a sommelier
Not into spirits? Wine always has a seat at the dessert table. But what is the best wine with pumpkin pie? "The general rule with desserts is the wine should always be sweeter than the dessert," Conner Taylor, sommelier and founder of Sommify Games, tells Romper. "If you serve a wine that is drier than the dessert, the wine can taste bitter. Sugar in food will heighten acidity in wine and can make it seem sharp."
"I love Port with dessert," Taylor says. "I think a good blonde Port or Moscatel port would do quite nicely with the flavors of pumpkin pie. My recommendation is Quinta do Portal Moscatel Port from the Douro." He adds that if you're looking for a more traditional port, the "Quinta do Crasto LBV Port is fantastic."
And if all this sounds like too much work and you just want to eat some pie with a chaser of Fireball whiskey, go right ahead. Like Klus said, whatever you're drinking with your pumpkin pie, there's only one rule: Have fun with it.
Sources interviewed:
Tommy Klus, owner of Scotch Lodge, a whiskey bar in Portland, OR
Conner Taylor, sommelier and founder of Sommify Games
This article was originally published on