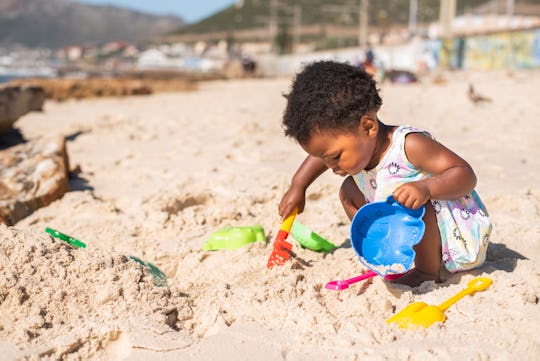 NickyLloyd/E+/Getty Images
15 Things To Make The Beach Fun For Kids
Maaaybe they'll buy you a minute to relax.
When you're child-free, a beach trip is all about lounging near the waves, soaking up some sun, and reading a good book. But parents know all too well that beach days with kids are an ordeal — you arrive at the beach looking like pack mules, burdened by the sheer amount of toys, towels, and supplies you need to keep your children entertained (and not fried to a crisp in the sun). Finding the right beach toys for kids, toddlers, and babies is the best chance you stand at finding a few minutes to sit back and enjoy the sun and sand.
The thing about beach toys though — they're not all created equal. They can be bulky and just make it even harder to carry everything. They can be complicated, like kites, and really dash any hopes you had of sitting down during your beach day. What parents really need are beach toys that come with their own bags, are easy to clean before putting back in the car, and don't add a lot of muss and fuss throughout the day. Muss-minimizing toys only, please.
Whether you need beach toys for babies, toddlers, or big kids, here are some options out there that will keep your children occupied long enough to really breathe in that ocean air and just... chill.
We at Romper only include products that have been independently selected by our editors. We may receive a portion of sales if you purchase a product through a link in this article.
Maybe the beach isn't as relaxing as it used to be for parents, but if you can find the right beach toys for kids to enjoy, you may be able to steal a minute or two to yourself.