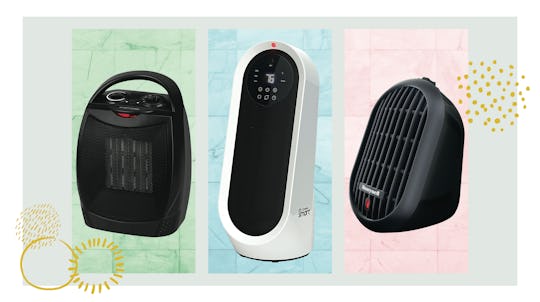 Amazon / Romper
The 5 Best Cool To The Touch Space Heaters
We only recommend products we love and that we think you will, too. We may receive a portion of sales from products purchased from this article, which was written by our Commerce team.
Space heaters are vital tools for warming a cold house, but it can be nerve-wracking for parents (and pet owners) when the heaters get hot. The best cool-to-the touch space heaters solve this dilemma, since these machines feature plastic exterior housings that don't get too warm. In many cases, it's ideal for a heater to use ceramic plates to heat the space, as they tend to be better than other space heaters at keeping the outside of the unit cool. That said, some other types of heaters can stay cool to the touch, and some ceramic space heaters could get hot, so user reviews are a really important resource for finding out whether any space heater remains comfortable to touch.
While it can be a relief to know your space heater won't burn anyone's fingers, you'll still want to keep other safety precautions in mind when choosing your unit. Ideally, you'll want to establish a 3-foot kid-free zone around the heater and avoid using it in your child's bedroom, so pick a heater that's small enough to establish that zone. You'll also want to make sure your child is supervised when using the space heater, since it can still get warm. And make sure you look for space heaters with safety features, such as the ability to automatically shut off if overheated or if the unit tips over. Avoid space heaters with exposed coils and metal grills, since these can get extremely hot. It's also worth mentioning that some heaters are certified by independent testing labs like Intertek as compliant with national safety standards, so look for Intertek's ETL certification label if you want that extra peace of mind.
Beyond safety, there are other considerations when purchasing a space heater. You'll want it to make sure it can handle the size of the room that you wish to heat (some manufacturers list a maximum square footage, while others indicate a general room size) and that it fits nicely in the space (tower heaters can be great for smaller rooms). Also be on the lookout for helpful features, such as the ability to oscillate, multiple heat settings, a fan to help with circulation, a remote control, or even the option to connect to your phone.
These space heaters will quickly and effectively warm up your space. Amazon reviewers confirm they stay super cool to the touch, so you don't have to worry about any burned fingers or noses.