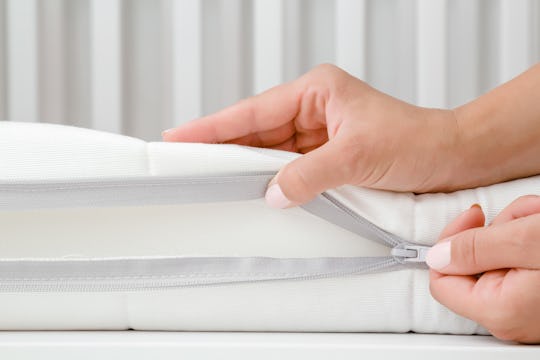 FotoDuets / Shutterstock
The 6 Best Crib Mattress Protectors, According To Reviewers
We only recommend products we love and that we think you will, too. We may receive a portion of sales from products purchased from this article, which was written by our Commerce team.
Between leaks, blowouts, and spit up, babies can be quite messy in their cribs. Luckily, the best crib mattress protectors will help ensure that your little one's crib mattress stays clean and dry. Top picks will be made from soft materials on the surface with a waterproof layer to prevent liquids from seeping through. Also, make sure that the protector you go with is sized for your baby's mattress to ensure a secure, snug fit and is machine washable to make your life a little simpler.
What To Consider When Shopping For Crib Mattress Protectors
Size
When it comes to cribs and crib mattresses, there are federal regulations around sizing. Standard full-size cribs measure about 28 by 52 inches, and mattresses are required to be at least 27.25 by 51.25 inches with a thickness of up to 6 inches. Most mattress protectors you'll come across are designed for standard-size crib mattresses (the protector's dimensions are usually just slightly larger than the mattress in order to fit) — but it's always a good idea to review the specifications and make sure that the product you go with will work with your child's specific mattress.
That said, purchasing a crib mattress protector can be a bit trickier if you don't have a standard crib and crib mattress. For example, mini cribs (which are usually around 24 by 38 inches in size) have a smaller mattress, so you'll need to pay extra close attention to each mattress protector's specs to find one that will fit.
Most crib mattress protectors are designed to wrap around the mattress and are elasticized to stay in place, just like a fitted sheet. Alternatively, there are some picks that boast zippered sides for extra security, though you'll need to pay closer attention to the sizing since these may not accommodate as wide a range of mattress thicknesses.
Other Design Features
The best mattress protectors for cribs typically incorporate a soft material on top — as with other types of bedding, cotton, bamboo, and polyester are common options — and a waterproof layer in the middle. Amazon reviewers can be helpful in determining whether mattress pads contain moisture without making loud, crinkly sounds.
Most crib mattress protectors have a quilted construction, but if you're worried about breathability, be on the lookout for mattress protectors with a honeycomb-like design to maximize airflow.
Shop The Best Crib Mattress Protectors
In a hurry? Here are the top picks for the best crib mattress protectors.
Scroll on for the six best crib mattress protectors on Amazon — and parents on the site confirm they're excellent at keeping messes contained.
1. The Fan-Favorite Crib Mattress Protector
Pros
Wildly popular on Amazon
Can purchase in multi-packs
Cons
With an incredible 4.7-star rating overall on Amazon, after more than 30,000 reviews, this crib mattress protector is a clear favorite among shoppers — and for good reason. For one, the mattress protector is sized to fit standard crib mattresses, and it boasts elastic all the way around to ensure it stays firmly in place. Plus, reviewers confirm this polyester pick is quiet — it shouldn't make any crinkling sounds, even as your baby moves throughout the night. This mattress protector is sold individually, or in a two or three pack — I generally recommend purchasing at least two crib mattress protectors so you always have a backup available when one is in the wash — and it comes in other sizes, too, like for a mini crib or a playard.
One reviewer wrote: "This has been such an amazing mattress protector! I've been using it almost 2 and a half years now and never once (when it was actually on the bed) has it failed to protect the mattress from pee accidents or drink spills. I'm about to have my second child and will definitely be buying this again!"
Available sizes: 28 x 52 x 9 inches (Crib), 24 x 38 x 5 inches (Mini Crib), 39 x 27 x 4 inches (Playard) | Waterproof: Yes | Machine washable: Yes | Stays on with: Elastic
2. The Best Crib Mattress Protector Under $15
Pros
Cons
Some Amazon reviewers have reported liquids sometimes seep through
This crib mattress protector from Masirs is a total steal at under $15 — and Amazon reviewers have confirmed that it's quite high in quality, hence the knockout 4.8-star overall rating. So go ahead and stock up on a few of them to always have clean ones on hand!
Made from a combination of bamboo rayon, this pick is elasticized to hold it in place on standard-size baby mattresses. Plus, shoppers have attested that it doesn't make noise when their little ones move around. It's also designed to be stain resistant and waterproof, though some reviewers mentioned that liquid can sometimes seep through it in certain instances. Still, an occasional leak is a fair trade-off for the price if you're on a tight budget.
One reviewer wrote: "I have a baby who leaks through her name brand diapers almost daily and I needed to stock up on some extra mattress protectors since one is always in the wash. These are fantastic. They are soft, they don't crinkle, they wash well. They don't catch hair like my old one did. I wash and dry mine like normal and haven't had any issues. I would recommend these to anyone!"
Available sizes: 28 x 52 x 9 inches | Waterproof: Yes | Machine washable: Yes | Stays on with: Elastic
3. The Best Zippered Crib Mattress Protector
Pros
Zippered design for super-secure fit
Both the bottom and sides are waterproof
Cons
Might not be the easiest to put on and take off
Want to ensure your little one's mattress protector stays in place? This crib mattress protector boasts a unique zippered design that ensures the protector won't slip off no matter how much your baby moves. Made from a super-soft cotton terry fabric, it won't make any pesky crinkling sounds as your baby sleeps, and both the sides and bottom are waterproofed for extra protection should an accident occur. This pick is designed for standard crib mattresses that are up to 5 inches thick.
One reviewer wrote: "Soft and strong. Really pleased with this product. I love that the zipper pull is hidden under a flap of material when zipped up to avoid scratching."
Available sizes: 28 x 52 x 5 inches (plus twin, twin XL, full, full XL, queen, king, and California king options) | Waterproof: Yes | Machine washable: Yes | Stays on with: Zipper
4. The Best Crib Mattress Protector Made With Organic Cotton
Pros
Made with organic cotton
Free of vinyl, PVC, phthalates, and latex
Cons
Priciest option on this list
If you like to shop organic, this Naturepedic crib mattress protector is a great choice. It boasts top and bottom layers made from 100% GOTS-certified organic cotton that's super breathable and soft to the touch. It also has a thin, waterproof layer that ensures the mattress below stays dry yet it doesn't crinkle as your baby moves around. This pick is designed to fit standard-size crib mattresses, and all-around elastic keeps it snugly in place.
One reviewer wrote: "I've been using this pad for a year and it has worked great. Not a single leak through to the mattress. It was very important to have natural materials where my baby slept. I feel great knowing this is organic cotton but also works fantastic."
Available sizes: 28 x 52 x 6 inches | Waterproof: Yes | Machine washable: Yes | Stays on with: Elastic
5. A Crib Mattress Protector With An Extra Breathable Honeycomb Design
Pros
Honeycomb-like design to keep cool
GREENGUARD gold certified
Cons
On the pricey side
No information about how much noise it makes
When it comes to features, breathability is at the forefront for this crib mattress protector: The honeycomb design is made to allow for plenty of air to flow between your baby and the mattress. Other major perks of this pick include its GREENGUARD gold certification (in other words, it has low chemical emissions), and that it will fit well on standard-size crib mattresses up to 6 inches thick. This crib mattress protector is made from polyester, but neither manufacturer nor Amazon reviews specifically describe whether or not it's super quiet. With that in mind, if you have a light sleeper who's extra sensitive to noise, another option could be a better fit.
One reviewer wrote: "Our LO is drooling a lot, so I had to get another cover to keep on hand. Makes washing/rotating them easier, as I always have a clean one ready. Gave me peace of mind when my son started sleeping on his tummy, that there was a breathable [layer] between him and mattress if he puts his face a bit down."
Available sizes: 28 x 52 x 6 inches | Waterproof: Yes | Machine washable: Yes | Stays on with: Elastic
6. The Best Mattress Protector For Mini Cribs
Pros
Fits most rectangular-shaped mini cribs
Constructed with a breathable bamboo material
Cons
Likely won't fit oval-shaped mini cribs
Standard mattress protectors are far too large for mini cribs. However, this PlushDeluxe mattress protector is just 27 by 39 inches in size, so it should fit most rectangular mini crib mattresses. Made from a bamboo terry fabric, the quilted material is soft and breathable, and it boasts a waterproof layer that's designed to be practically silent. The protector is fully elasticized to hold it in place. It's also available in a standard-size option.
One reviewer wrote: "Fit the mini crib mattress perfectly. Soft, [absorbent] material. Just what I was looking for."
Available sizes: 28 x 52 x 8 inches (Crib), 27 x 39 x 8 inches (Mini Crib) | Waterproof: Yes | Machine washable: Yes | Stays on with: Elastic
About The Recommender
As a mom of two young children, Jenny White has spent countless hours researching baby-related products and testing them out — including many crib mattress protectors — to determine the best of the best picks. White has written for Romper since 2019, as well as other publications like Bustle, Elite Daily, and Mic. She holds a bachelor's degree from the University of Missouri School of Journalism.