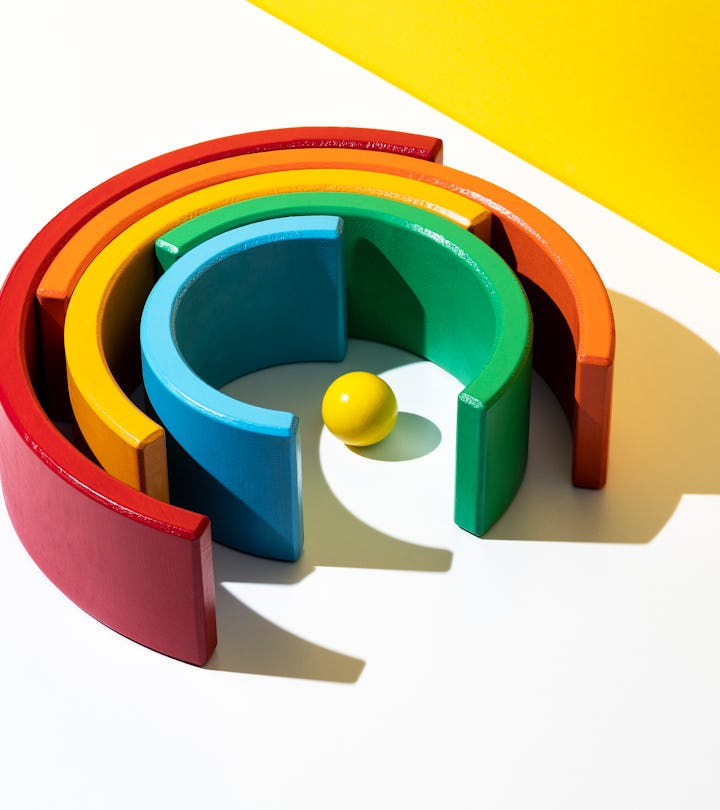 Tarik Kizilkaya, Getty images
These 18 Gifts & Toys For Babies Will Last Longer Than 2 Seconds
Who doesn't love a chewable giraffe, I ask you?
Baby gift shopping. The words alone sound so promising. Yet ask any parent and they'll tell you that not all baby gifts are created equal. Some of the most jazzy, light-up, noise-making toys end up being a total bust while the cardboard box they came in is the real winner. So what are the best toys for babies? Take a look at these items, the best baby gifts and toys out there.
Using knowledge of early childhood development paired with research of the best developmental toys for babies and baby gifts that have received positive parent approval, Romper has put together a list of toys for babies proven to stand the test of time. These items are wonderful because they're washable, safe, help develop fine motor skills, introduce babies to colors and textures, and, wait for it... aren't obnoxiously loud — although, full disclosure, some do make noise.
Bright and beautiful, you won't mind looking at the best infant toys (because while you may aspire to putting your baby's stuff away every evening, ultimately it's just not going to always happen). Kid stuff tends to take over a home, and when the living room inevitably becomes the playroom, you'll want the best developmental toys around, like these.
We only include products that have been independently selected by Romper's editorial team. However, we may receive a portion of sales if you purchase a product through a link in this article.
See, shopping for a baby isn't so hard. All you need is an hour online and this handy list to guide you to the best toys for babies that will keep them entertained, help them work on their motor skills, and won't drive parents up the wall.
This article was originally published on