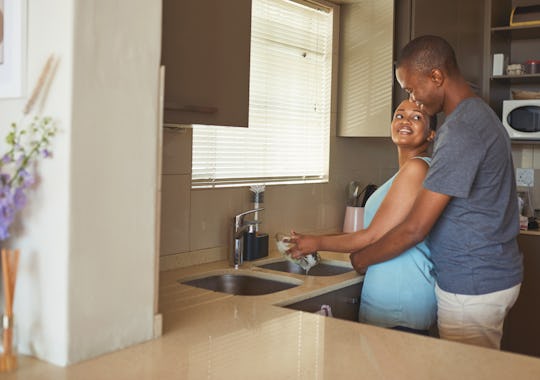 LaylaBird/E+/Getty Images
Why Everyone Should Try Standing Sex At Least Once
Experts agree it's hot for a good reason.
I'm a woman who has a hard time getting out of bed at any time of day, even if there's sex involved. But, I'm resolving to be less lazy, especially when it comes to sex. The reasons to try standing sex at least once are numerous, but at the top of that list is the fact that it can be a supremely fulfilling act.
Whether you spend all day at a desk or on your feet, standing sex is an experience that really does make you weak in the knees. Plus, there are plenty of benefits to trying something new with your partner. But even if you're an old pro at standing sex, you can still use the act to spice things up.
"The benefits of trying something new — whether standing up or something else — during sex is that it gives couples a new adventure to explore together," psychologist, sex therapist, and founder of Modern Intimacy, Dr. Kate Balestrieri tells Romper. "You may decide it's your new go-to position, or you may retire standing up sex after one go. Either way, you get to learn something new about your body, your partner's body, erogenous areas to explore, or the way a new angle may feel."
Experts:
Dr. Kate Balestrieri, Licensed Psychologist, Certified Sex Therapist and Founder of Modern Intimacy
Dainis Graveris, certified sex educator, relationship expert at SexualAlpha
This article was originally published on