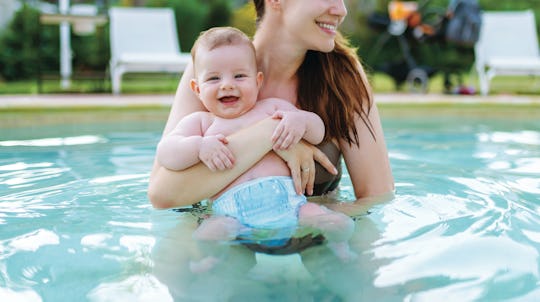 Dusan Petkovic / Shutterstock
The 6 Best Swim Diapers On Amazon — Plus, Expert Tips For Choosing Them
We only recommend products we love and that we think you will, too. We may receive a portion of sales from products purchased from this article, which was written by our Commerce team.
If your little one isn't fully potty trained, and you have days spent at the pool, beach, or lake in your calendar, you'll want to get them some swim diapers. Unlike traditional diapers — which will become saggy, waterlogged, and prone to leaks as soon as your little one starts swimming — the best swim diapers on Amazon will be designed to only keep solids contained. A snug fit is key, so as you shop, pay close attention to manufacturer size charts to choose the correct size based on your child's age and measurements. (This is one baby product that you don't want to size up in!) Also, consider the type that you prefer, whether that be single-use disposables or reusable.
The Experts
Brendan O'Melveny is the chief aquatics officer at Imagine Swimming, a New York City learn-to-swim school, and he has been teaching swimming to infants, children, and adults for nearly two decades. As a father of two children, he has seen many different swim diapers in action.
Sarah Waataja is the director of retail at Foss Swim School — which has more than 20 locations in the United States — where her goal is to provide customers with quality equipment for swim lessons, including swim diapers.
Choosing Between Disposable & Reusable Swim Diapers
One of the main buying decisions that you'll have to make when picking out swim diapers is whether to go with ones that are disposable or reusable.
Pros & Cons Of Disposable Swim Diapers
Disposable swim diapers are designed to be thrown away after each use, making for much easier post-swim cleanup, should your child have an accident. This style of swim diaper usually features a stretchy waistband (that's sometimes adjustable) for a snug fit.
However, there are downsides. In an interview with Romper, O'Melveny explains, "Disposable swim diapers tend to become loose around the hips and thighs as baby kicks [and] wiggles in the water," adding, "That can lead to leaks."
Pros & Cons Of Reusable Swim Diapers
Reusable swim diapers, which are made from fabrics that won't get bogged down by water, have many perks. As Waataja writes in an email to Romper, "The benefit of a reusable diaper is that they will provide an effective seal around the child's waist and legs, necessary to prevent leaks." Look for options with features like adjustable snaps or drawstrings to further minimize the risk of leaks.
That said, reusable swim diapers tend to be a more costly investment upfront (though they can be more budget-friendly over time for frequent swimmers since they can be used time and again). Another downside with reusable swim diapers is cleanup — if your child has an accident, you won't be able to just throw out the diaper like you would a disposable pick. For ease, some reusable swim diapers are actually built into regular swimsuits.
Both O'Melveny and Waataja prefer reusable swim diapers over disposables, though Waataja recommends pairing them together to take advantage of both their benefits.
Other Swim Diaper Features
There are a variety of helpful features to look for when purchasing swim diapers. If you're worried about protecting your child's skin from the sun, look for products that feature UPF protective fabric to block out the sun's UVA and UVB rays. Also, choose from a wide variety of color and patterns options based on your and your little one's style preferences — the options are virtually endless!
Shop The Best Swim Diapers
In a hurry? Here are the top picks for the best swim diapers:
Before your little one gets in the water, put them in one of these six swim diapers to keep messes contained.
1. A Fan-Favorite Reusable Swim Diaper
Pros:
UPF 50+ protection
Secure side snap closures
More than 10,000 reviews on Amazon
Cons:
Not as adjustable as some other reusable swim diapers
With a whopping 10,000-plus reviews on Amazon — and a 4.6-star rating overall — it's quite clear that this reusable swim diaper from i play. by green sprouts is beloved on the site by parents. And it makes total sense why that's the case. For one, the swim diaper snugly fits around the waist and legs to prevent leaks. Also, the snap closures on the side are secure so your little one shouldn't lose their diaper mid-swim. The three-layer design (all of which are made from polyester) is another feature that parents love. The breathable wicking liner helps to prevent diaper rash, the inner layer is absorbent and plush, and the outer layer is waterproof.
One reviewer wrote: "I love these iPlay swim diapers, and swore I would not use another brand. I like the feel, it's more cloth than plastic. And they work awesome, do an excellent job. Cleaning is a breeze, throw it in the wash and air dry. You never have to buy disposable swim diapers again. This product is a must buy if you frequent pools with your little one."
Type: Reusable (and machine washable) | Available colors: 8 | Available sizes: 6 month (10 to 18 pounds) — 4T (38 to 46 pounds) | Sun protection: UPF 50+
2. Writer's Pick: These Disposable Swim Diapers
Pros:
Reliable option, in my experience
Tearable sides make them easy to use
Cons:
Cost might add up if you have a frequent swimmer
Limited print options
Before my daughter was potty trained, she wore these Pampers disposable swim diapers every time she went swimming in a pool, ocean, or lake — and I can attest that we never experienced a single leak! The swim diapers fit nice and snug around the waist and legs, and they don't stretch out when worn for long periods of time. When it's time to get out of the water, the tearable sides allow for quick and simple removal of the swim diaper.
One reviewer wrote: "Excellent quality. Impressed the diapers don't leak and keep all the diaper contents inside the diaper. Highly recommend."
Type: Disposable | Available colors: 1 | Available sizes: Small (13 to 24 pounds), Medium (20 to 33 pounds), Large (31+ pounds) | Sun protection: None
3. A Set Of Reusable Swim Diapers With Extra Snaps
Pros:
Numerous snaps for adjustability
Relatively budget-friendly
Available in many cute patterns and solid colors
Cons:
Only available in two sizes
Not made with UPF protection
These wegreeco reusable swim diapers are covered in snaps on the sides and back, allowing you to make adjustments to achieve a secure, snug fit as your little one grows. Made from a wicking jersey material, this pick won't get bogged down as your child enjoys the water. The polyester elastic on the waistband and leg holes ensures solids won't escape — and the interior mesh helps with this, too. While these swim diapers are only available in small or large, the upside is that since they're so adjustable, the two size options should work for many kids.
One reviewer wrote: "These swim diapers work great for holding in the poo when baby is swimming. They rinse out and wash very well and have stood up to it with no signs of wearing out. The multiple snap points makes them very adjustable, which is useful. They have been very useful this summer. A good swim diaper!"
Type: Reusable (and machine washable) | Available colors: 21 | Available sizes: Small (10 to 19 pounds) — Large (20 to 40 pounds) | Sun protection: None
4. A Reusable Swim Diaper With An Adjustable Drawstring Waistband
Pros:
Adjustable drawstring waistband
UPF 50+ protection
Excellent size range
Cons:
Some Amazon reviewers have reported that it runs small
If you find that your child's diaper just isn't fitting well in the waist, this reusable swim diaper actually boasts an elastic waistband with a convenient built-in drawstring, allowing you to adjust it as needed. It also features stretchy leg bands to help stop leaks. And the entire product is made from polyester to not become waterlogged when your kiddo is enjoying being a little fishy in the pool.
One reviewer wrote: "This is a nice swim diaper, very durable and great for swim classes. Runs a tad on the small size, may want to buy a size bigger."
Type: Reusable (and machine washable) | Available colors: 3 | Available sizes: X-Small (6 to 12 pounds) — 4T/5T (38 to 46 pounds) | Sun protection: UPF 50+
5. A Pair Of Trunks With A Built-In Reusable Swim Diaper
Pros:
Convenient swim trunks/diaper design
Come in lots of fun prints
UPF 50+ protection
Cons:
Waistband isn't adjustable, just stretchy
Wildly popular on Amazon — boasting a knockout 4.8-star rating overall after 1,800-plus reviews — these swim trunks from i play. by green sprouts actually feature a built-in reusable swim diaper, which means you won't have to mess with these swim necessities separately. Made from 100% polyester, the trunks have a three-layer design that prevents them from getting waterlogged. An elastic waistband and snug-fitting legs combine to prevent accidents from entering the water. These swim trunks come in a wide range of nautical-inspired prints — you might even want to scoop up a couple of options to always have a clean pair on hand!
One reviewer wrote: "I love these! They are so much cuter then using a swim diaper alone and much easier then using a swim diaper with swim trunks on top. I ended purchasing 3 of these a piece for my little ones because we are always swimming and I didn't want to take a chance of needing to put wet trunks on them. I would recommend them to anyone!!"
Type: Reusable (and machine washable) | Available colors: 23 | Available sizes: 6 Month (10 to 18 pounds) — 4T (38 to 46 pounds) | Sun protection: UPF 50+
6. A One-Piece Swimsuit With A Built-In Reusable Swim Diaper
Pros:
Convenient swimsuit/swim diaper combination
Cross-back straps stay in place
UPF 50+ protection
Cons:
Waistband isn't adjustable, just stretchy
Some reviewers on Amazon have noted it runs small
This pick from i play. by green sprouts combines a one-piece swimsuit with a reusable swim diaper — and it's just so convenient! The built-in diaper features three different layers (an absorbent inner layer, a wicking liner, and a waterproof outer layer), all of which are made from 100% polyester. This product boasts a snug fit overall and elastic at the legs for even more security to prevent leaks. Choose from a variety of pattern options, some of which have ruffle detailing.
One reviewer wrote: "This suit is adorable! I love that we don't have to remember a separate swim diaper. My daughter has three swim suits but this is always the one we reach for. Contains accidents well and cleans easily if they poop in it."
Type: Reusable (and machine washable) | Available colors: 11 | Available sizes: 6 Month (10 to 18 pounds) — 4T (38 to 46 pounds) | Sun protection: UPF 50+
Experts:
Brendan O'Melveny, Chief Aquatics Officer at Imagine Swimming
Sarah Waataja, Director of Retail at Foss Swim School