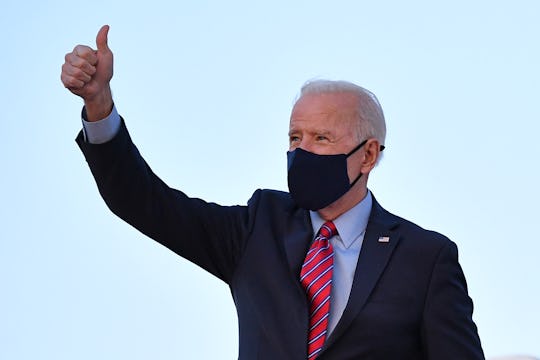 MANDEL NGAN/AFP/Getty Images
The White House Has Clarified What Biden's Goal To Reopen Schools Looks Like
By his hundredth day in office, Biden's administration is aiming to have in-person teaching happening one day a week in "the majority of schools."
President Joe Biden has been talking about getting children back into the classroom since before he was even sworn into office. In December, Biden vowed to reopen most schools to in-person learning during his first 100 days as president, calling on Congress to provide the necessary funding to protect teachers, students, and school staff. But the White House has since clarified what Biden's goal of reopening schools looks like — and it may not be what parents envisioned.
As questions regarding safely reopening schools continue to mount, White House Press Secretary Jen Psaki has shed a bit more light on what Biden's reopening goal actually looks like. Speaking to reporters Tuesday, Psaki said Biden's goal was to have "some teaching in classrooms" happening at "more than 50%" of the nation's schools "by day 100 of his presidency."
"Teaching at least one day a week in the majority of schools, by day 100," Psaki said. "Hopefully, it's more. And obviously, it is as much as is safe in each school and local district."
Back in December, Biden stressed safely returning children to their classrooms amid the coronavirus pandemic should be considered a priority. "It should be a national priority to get our kids back into school and keep them in school," the Associated Press reported Biden said while speaking in Delaware Dec. 8. "If Congress provides the funding, we need to protect students, educators, and staff. If states and cities put strong public health measures in place that we all follow then my team will work to see that the majority of our schools can be open by the end of my first 100 days."
At the time, Biden didn't go into great detail regarding how his administration would make that safe return possible. Rather, Politico reported he said adequate funding would be vital for school districts to be able to implement recommended COVID safety measures like improving ventilation in buildings and hiring additional staff so students can be grouped in smaller classes. And while Biden previously said his administration would work to ensure educators are given access to a COVID-19 vaccine as soon as possible, the U.S. Centers for Disease Control and Prevention (CDC) has more recently said the vaccination of teachers is not a prerequisite for safe school reopenings, CNBC reported.
In December, American Federation of Teachers President Randi Weingarten applauded Biden's comments on reopening schools. "With proper funding and strong public health measures, it's reasonable to open schools and I'm so glad that we have a President-elect who understands that," Weingarten tweeted. "Unlike Trump, President-Elect Biden gets what we need to reopen schools safely. If we get the resources and the public health safeguards we can open schools safely."
But other education groups were, at the time, hesitant to celebrate something that depended on Congress approving funding. "It's a great idea and I very much support it, but the conditions that were made are absolutely essential, No. 1 being funding," Dan Domenech, executive director of The American Association of School Administrators (AASA), told the Associated Press. "We've been asking for that money for the entire year, and it hasn't come forth."
To better assist schools in reopening, the CDC is expected to release an "operational strategy" for reopening K-12 schools later this week, according to CBS News. That guidance will reportedly steer schools toward various mitigation practices such as mask mandates, social distancing, good hand hygiene and coughing etiquette, as well as regular cleaning and ventilation of facilities. Other areas of recommendation are expected to refer to contact tracing and isolating or quarantining infected individuals. Biden is expected to promote the vaccination of teachers as a "supplementary" measure for reopening, the news outlet reported.
Without a doubt, safely reopening the majority of the nation's schools within his first 100 days in office is a big undertaking. However, at a minimum of just one day a week, Biden's reopening goal may not be the return to school overwhelmed and overworked parents have been hoping for.
This article was originally published on