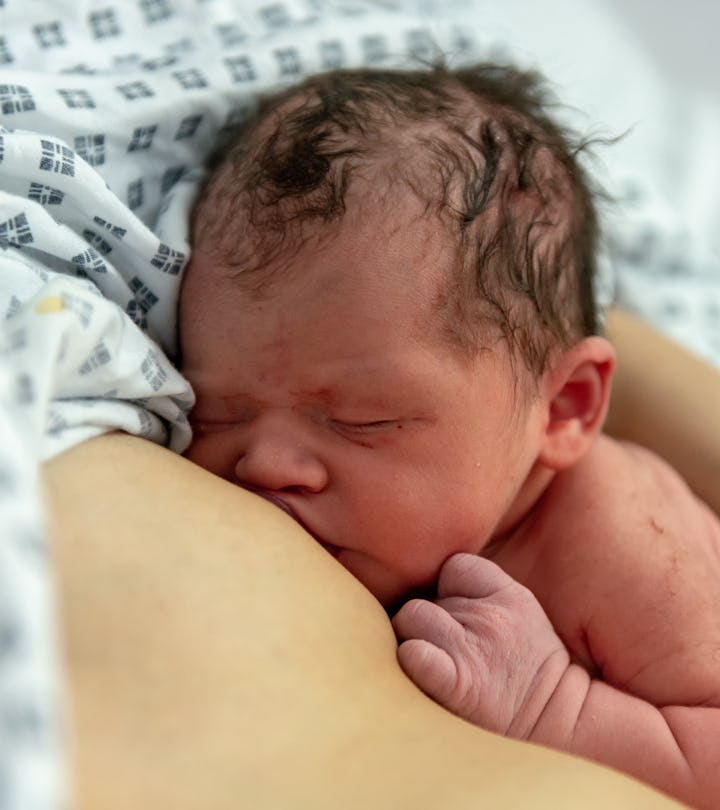 Alexander W Helin / Getty
36 Facts You Didn't Know About Breastfeeding To Honor Breastfeeding Awareness Month
Like, who knew breast milk could be so many colors?
I always planned to breastfeed my children, largely because my own mother breastfed my brothers and I when we were babies and talked about the special bond it created. I never considered doing anything else. Armed with an arsenal of facts about breastfeeding and the stories from my mom, I held my 5-pound, 11-ounce daughter up to my naked breast after her birth and realized that I still had no idea what I was doing.
What I assumed would be a natural, easy, and fulfilling experience turned out to be as difficult and exhausting a journey as it was a beautiful one. Like most aspects of motherhood, breastfeeding comes with its own set of challenges, no matter how easily or (or not so easily) it comes.
August is National Breastfeeding Awareness Month and although parents (and the public in general) have taken huge strides in the right direction to normalize breastfeeding, there is still a lot of work to be done. Stories of mothers being harassed for nursing in public, cases where moms give up nursing too soon because they lacked support, or even hospitals that push formula as the norm to new moms pop up all too often. More than just raising awareness about the importance of breastfeeding, this month is crucial for encouraging people of all genders, ages, races, orientations, and demographics to support breastfeeding, regardless of what they chose to do for their baby.
Studies Referenced:
Doan, T., Gardiner, A., Gay, C. L., & Lee, K. A. (2007). Breast-feeding Increases Sleep Duration of New Parents. The Journal of Perinatal & Neonatal Nursing, https://pubmed.ncbi.nlm.nih.gov/17700096/
Kendall-Tackett, K., Cong, Z., & Hale, T. W. (2011). The Effect of Feeding Method on Sleep Duration, Maternal Well-being, and Postpartum Depression. Clinical Lactation, https://www.semanticscholar.org/paper/The-Effect-of-Feeding-Method-on-Sleep-Duration%2C-and-Kendall-Tackett-Cong/7a392d07adda228f6a5cabb13f701b933098a70d
Gunderson, E. P. (2014). Impact of Breastfeeding on Maternal Metabolism: Implications for Women with Gestational Diabetes. Current Diabetes Reports, https://link.springer.com/article/10.1007/s11892-013-0460-2
Lauer, E., Armenti, K., Henning, M., & Sirois, L. (2019). Identifying Barriers and Supports to Breastfeeding in the Workplace Experienced by Mothers in the New Hampshire Special Supplemental Nutrition Program for Women, Infants, and Children Utilizing the Total Worker Health Framework. International Journal of Environmental Research and Public Health, https://pubmed.ncbi.nlm.nih.gov/30781764/
Vennemann, M., Bajanowski, T., Brinkmann, B., Jorch, G., Yucesan, K., Sauerland, C., & Mitchell, E. (2009). Does Breastfeeding Reduce the Risk of Sudden Infant Death Syndrome? Pediatrics, https://pubmed.ncbi.nlm.nih.gov/19254976/
Salone, L. R., Vann, W. F., & Dee, D. L. (2013). Breastfeeding. The Journal of the American Dental Association, https://pubmed.ncbi.nlm.nih.gov/23372130/
Stevens, E. E., Patrick, T. E., & Pickler, R. (2009). A History of Infant Feeding. Journal of Perinatal Education, https://pubmed.ncbi.nlm.nih.gov/20190854/
Wright, A. L., & Schanler, R. J. (2001). The Resurgence of Breastfeeding at the End of the Second Millennium. The Journal of Nutrition, https://academic.oup.com/jn/article/131/2/421S/4686960
Experts:
Ashley Georgakopoulos, Motif Medical lactation director and IBCLC
Rebecca Costello, IBCLC, MPH of In the Flow Lactation
This article was originally published on