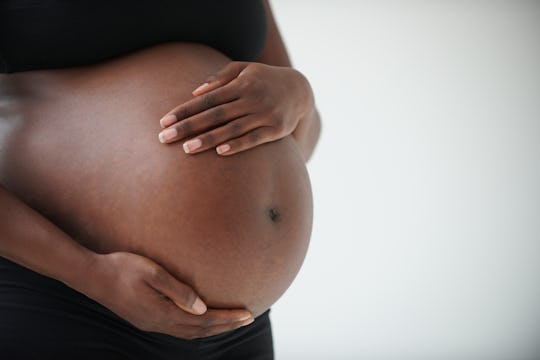 LWA/Dann Tardif/DigitalVision/Getty Images
2021 Was One Of The Worst Years In Decades For Maternal Deaths In The U.S.
For Black women, the statistics are especially tragic.
For years, maternal mortality rates in the United States have soared far above those in other high-income countries. But despite ongoing awareness of the issue, a new report from the Centers of Disease Control and Prevention (CDC) on maternal deaths shows that 2021 had one of the worst rates of maternal mortality on record: 1,205 deaths, a rate of 32.9 per 100,000 live births. This grim statistic represents a 40% increase from the previous year (861 deaths) and disproportionately affected Black women and those over 40.
The World Health Organization (WHO) defines maternal mortality as a death occurring during pregnancy or within 42 days of delivery associated with pregnancy or birth but has no specified cause. As such, this new data, which comes from the National Vital Statistics System (NVSS) mortality file, does not represent all deaths among pregnant or recently pregnant people, but only those in which the underlying cause could be attributed to direct or indirect causes related to pregnancy.
While we do not know precisely how or how many of these deaths could also be tied to Covid-19 — from complications due to having contracted the illness or issues stemming from hospital staffing issues — CNN and NPR have both reported that some experts believe that the pandemic likely played a role in the sharp increase.
Data from the WHO show that maternal mortality overwhelmingly occurs in low-income and middle-income nations. Looking at the issue dispassionately, 1,205 deaths among the reported 3.6 million births in the U.S, while obviously tragic, may not seem statistically alarming. But to put that number (to say nothing of the individual people and families it represents) into perspective, when compared to other high-income countries, the Australian Institute of Health and Welfare reports that 194 Australian women died during pregnancy or within 42 days of the end of pregnancy from 2011 to 2020.
Furthermore, a CDC report from 2022 found that among pregnancy related deaths (which is different from maternal mortality rate though there are large areas of overlap), 80% observed between 2017 and 2019 were preventable. Among American Indian and Alaskan Native (AI/AN) people, that number was a staggering 93%.
While increases were seen across racial and age demographics, older women and Black women were disproportionately affected by maternal mortality. Among Black women the rate was 69.9 per 100,000 — nearly three times higher than the rate for white women.
In June of last year, the White House released a Blueprint for Addressing the Maternal Health Crisis to address this increasingly dire public health issue. The plan comprises 50 actions for more than a dozen federal agencies to address maternal death, including increasing access to wider variety of maternal health services, expanding and diversifying perinatal care providers, and strengthening social and economic supports for people before, during, and after pregnancy. Hopefully, the CDC report for 2022 will reflect these efforts.