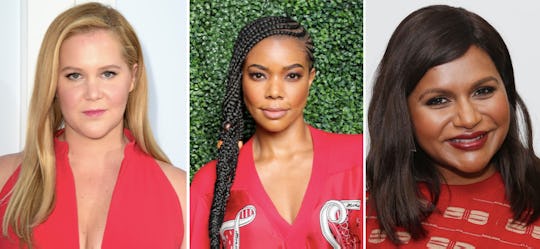 Lars Niki/Getty Images Entertainment/Getty Images/ Rich Polk/Getty Images Entertainment/Getty Images Kevin Winter/Getty Images Entertainment/Getty Images
33 Celeb Moms Who Aren't Afraid To Get Candid & Keep It Real
Because motherhood can be... a lot.
Parenthood is not always an easy ride, and this is particularly true when it comes to being a mom. You have a slew of physical, mental, and emotional challenges and life adjustments to make when you decide to welcome a new little person into your family, and it's an experience only another new mom could possibly relate to. Though they are often known for their poised and photo-ready lives, these 33 celebrity mothers aren't afraid to keep it real when it comes to motherhood and are the refreshing, honest, down-to-earth role models we truly need.
Now, let's be clear, "keeping it real" doesn't always mean the moms who crack jokes about leaving the hospital in diapers and leaking breast milk during meetings (though they are, indeed, pretty funny and oh so appreciated). Moms who "keep it real" also include those who aren't afraid to talk about postpartum depression and anxiety, infertility, marital adjustments, and all the other realities that come with building a family. The truth is that it's not always an easy or linear process for everyone, but the more people who are willing to speak about it honestly — especially when they have a public platform — the better it gets for all of us.
This article was originally published on