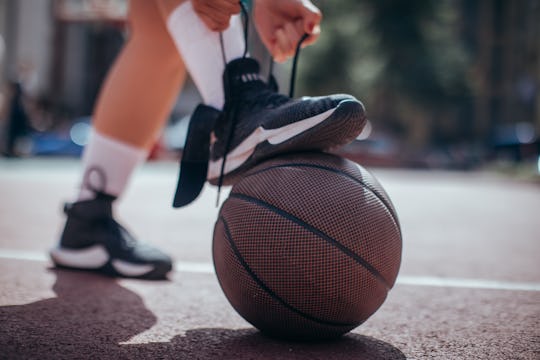 South_agency/E+/Getty Images
This Viral Video Of A Chinese Kindergarten Gym Class Has Amazed The Internet
The coordination is mesmerizing.
The most coordinated thing my friends and I ever pulled off in kindergarten was sort of skipping at the same time for about 30 seconds. So you'll forgive my astonishment when I caught sight of a new viral video of a Chinese kindergarten class making the rounds on social media. Not only is their basketball workout seriously difficult and complicated, but these toddlers handily pulled off their classroom routine in perfectly timed precision. Without looking like they had a care in the world.
Norwegian diplomat Erik Solheim took to Twitter on Sunday to share a short clip of a kindergarten class taken somewhere in China. The video sees a group of about 12 kindergartners, who I will remind you now are essentially toddlers, moving through a synchronized basketball routine. They sit on the ground with their legs outstretched, bouncing a basketball with each hand. That would be enough for some of us, to be honest, but these little ones bounce their balls while also moving their legs in perfect time with each other, lifting their feet in the air, swiveling... you just have to see it for yourself, it's incredible.
"WOW! Physical education class of kindergarten," Solheim captioned the video. Wow is an understatement.
The video has left everyone impressed, leaving messages like "Amazing! Where is this school? I congratulate the physical teacher who has created this. Let all schools learn & implement this novel approach." Another commented, "This looks way more fun and effective than the crap we did in PE."
This isn't the first time a class of Chinese kindergartners impressed the internet with their coordination skills. It's not even the first time they impressed us all with basketballs. In 2020, the South China Morning Post shared a compilation video of young students doing their physical education routines and nearly 3 million people watched in awe. Perhaps because as adults, most of us would struggle dribbling one basketball while standing still so the idea of having to coordinate with a group and also move around is incredibly intimidating.
The concept of repetition is frequently used in physical education classes for children in China, according to the Association for Asian Studies, with obviously successful results. Here's hoping a gym starts an adult version for the rest of us some time soon.