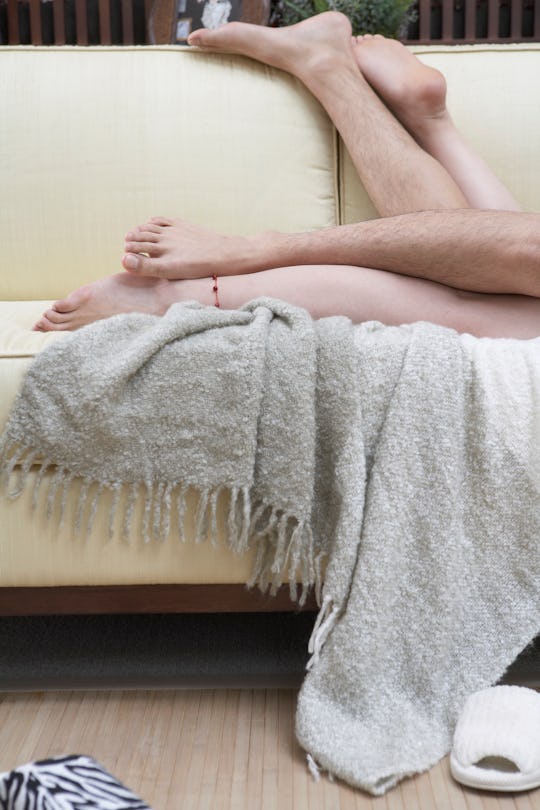 blue jean images/ Getty Images
The Best Couch Sex Positions
Pro tips for the best sofa sex, ever.
Before you became a parent, you probably had your fair share of lackluster quickies on dorm room sofas, back seats of cars, or the sectional in your parents' basement. It was fun at the time, but nothing toe-curling. It was convenience sex, or happened at the spur of the moment. But, what if I told you that there are couch sex positions that aren't just good, they're teeth-chattering, what-the-hell-was-that, good? There are. I got the scoop from the real experts — two of my favorite adult film actresses Casey Calvert and Sinn Sage.
As actresses in, ahem, adult films, you know that these two women they've had the good, the bad, and the ugly. They have seen and done more than most of us, and so they really do know the best couch sex positions. These women know the sex positions that feel the best whether you're on the top or the bottom, and they were awesome enough to share their secrets with us.
Because let's be real, if you have a baby, and their room is right next to yours, you can't really go all-in on your love making without risking of waking the baby. And that's not a good look — stressing about waking up a sleeping baby is a total turn off. But on the sofa in the living room? Far away from peeping ears, bouncing headboard, and creaking mattresses? Much, much better.
Note: For this article, I will be referring to the person doing the penetrating as the "top" and the one being penetrated as "the bottom," if penetration is involved.
Spicing up your routine by adding in a little couch action can change the dynamic during your play. It's a great way to get beyond a sexual lull or plateau, and heating things up with you and your partner. Watch some sexy Bridgerton scenes together, or even some actual, ethical porn, lay down a blanket and go for it. Whether you're just looking for a little fun, or the whole kit and kaboodle, getting sexy on the sofa is a great way to do it.
Sources interviewed:
Sinn Sage, adult film performer, actress, director, and producer
Casey Calvert, adult film actress and director