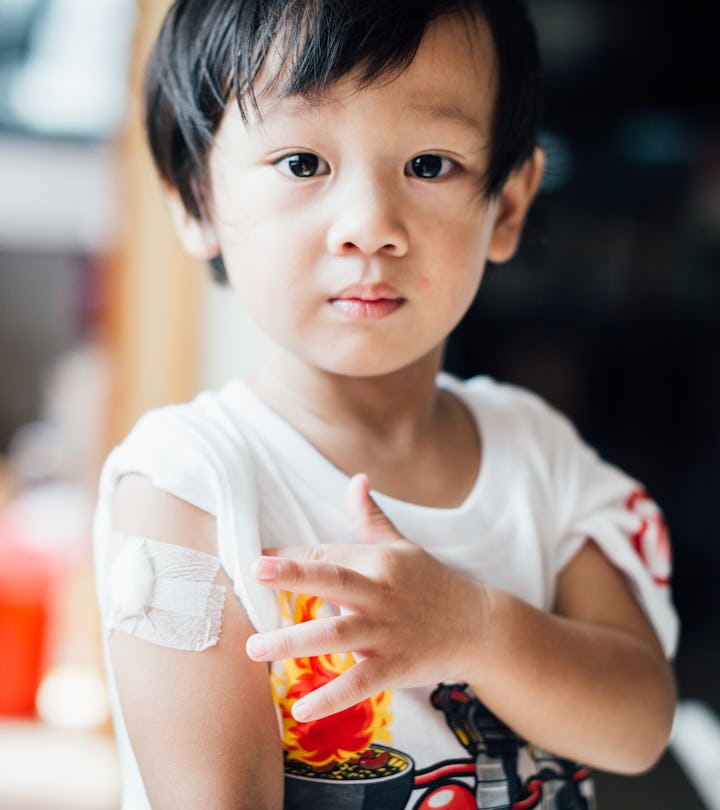 D.Jiang/Moment/Getty Images
Is It Time For Another Covid Booster? Here's The 2023 Guidance
The newest booster will be available this fall.
Don't call it a comeback — Covid never truly went away, but it certainly feels like it after an extra hot summer, which makes it hard for respiratory viruses to thrive. As the U.S. eases into autumn, the number of cases nationwide is beginning to rise, experts say, in keeping with the trends from previous years. So, is it time for another Covid booster? Since Covid thrives in the cooler months — along with other viruses, like the flu and RSV — here's what you need to know about getting up to date on your vaccines for maximum immunity come autumn.
According to the Centers for Disease Control and Prevention's (CDC) Covid Data Tracker, which records positive Covid cases across the U.S., hospitalizations resulting from Covid begin rising around August each year, and that trend is holding true so far in 2023. Hospitalizations have increased by thousands each week since the start of August.
On Sept. 12, 2023, the CDC announced that they now recommend everyone ages 6 months and older receive an updated Covid-19 vaccine to protect against the variants that are currently the most active, and causing the most serious illness. The organization said updated vaccines from Pfizer-BioNTech and Moderna will be available to the public later this week.
Where can I get the new Covid vaccine?
The CDC announced that a new Covid vaccine will be available this month, and you can find a vaccination location near you by visiting vaccines.gov, or check with your primary care doctor about getting the shot from them.
If you're the parent of an infant or toddler, getting the vaccine for them may prove more difficult — vaccine deserts for young children have formed nationwide. If you're having difficulty finding the updated Covid vaccine for your little one, experts recommend:
Visiting vaccineplanner.org to check if you live in a vaccine desert, and locate vaccine sites near you.
Calling your local health department and children's hospital for leads on doctors in your area vaccinating young children.
Reaching out to other pediatricians and family medicine doctors in your area to see if they keep the vaccine in stock.
For most Americans, the vaccine will be free, the CDC says. It is covered by most insurance plans, and free shots will be available through local, tribal, and state health departments (and via the Vaccines for Children program for eligible kids).
If I just had Covid, do I need a booster?
Experts and the CDC agree — regardless of whether you've had Covid before or not, it's important to stay up to date on your vaccines. That said, you may want to push your appointment back a little bit if you're just getting over the virus.
"According to the CDC, if you've recently had Covid-19, you may consider waiting three months before getting the vaccine," says Dr. Shalika Katugaha, M.D., system medical director of Infectious Diseases at Baptist Health in Jacksonville, Florida. "Infection provides immunity, and reinfection is less likely in the weeks to months after infection. Individuals with underlying or immunocompromising conditions, or those living in areas with high Covid-19 hospital admission levels, may need the vaccine sooner. If you're unsure about when to get it, you should check with your doctor."
Will there be yearly Covid shots going forward?
Experts say that in the future Covid shots, much like flu ones, will be revamped yearly to protect against new variants and maximize your immunity based on which strains are most active each year. For example, the latest variant of Omicron is called XBB, and will be targeted by the Covid vaccines coming out now, says Dr. Cameron Wolfe, MBBS, infectious disease specialist at Duke Health.
"In the future, the paradigm will change from primary series and boosters to the paradigm of a single annual immunization with the latest version of the vaccine," says Katugaha.
If you're heading to get your new Covid vaccine anyway, be sure to ask about the flu shot, too. This year's shots should be available by September, the same time the new Covid booster comes out, says Katugaha. Experts agree it is safe to receive both shots at the same time.
"Both have been studied together and actually work well together, irrespective of your age, pregnancy, or immunosuppression. So, the easiest thought this year is to actually go and try and get both together and just know they're done," Wolfe says.
You may have also seen news of vaccine developers working on combining flu and Covid shots into one (yay, fewer needles!). Some are even formulating a three-in-one shot that includes the RSV vaccine. None of these combo shots will be available this year, but Wolfe and Katugaha are hopeful they'll be on the market between now and winter of 2024.
How many times do you have to be vaccinated to be fully vaccinated?
With so many brands, doses, boosters, and changes to the guidance, it's hard to keep up with it all. If you check the CDC's website, the verbiage about vaccination gets confusing fast. They reference needing "updated" vaccines, and there's no mention of boosters anywhere. What's up with that?
For starters, being fully vaccinated means you've received both shots in your primary series of vaccines. Up to date means you've had all the recommended boosters since then, experts say.
"The original Covid-19 vaccines from 2021 are known as the monovalent vaccines. The monovalent Pfizer and Moderna vaccines are no longer authorized for use in the U.S. because they no longer provide protection against the currently circulating strains of Covid," says Katugaha. "The bivalent vaccines are also called the 'updated' vaccines. They protect against the original virus and the Omicron variants BA.4 and BA.5. These updated vaccines became available in September 2022."
If you or your kids received a booster at any point, you are likely up to date on your vaccines, but you can check the dates on your vaccine card to be sure. "The dates the bivalent boosters were rolled out were Sept. 2, 2022, for people 12 years and older, Oct. 12, 2022 for people ages 5 to 11, and Dec. 9, 2022 for children 6 months to 4 years old," says Katugaha.
In order to be considered up to date (i.e. as immune to Covid-19 as possible), here are the shots everyone in your family needs to have:
Babies & young children 6 months to 5 years old
Children are considered fully vaccinated when they'e gotten their primary series of Pfizer or Moderna shots, says Dr. Mobeen Rathore, M.D., chief of pediatric infectious disease and immunology at Wolfson Children's Hospital of Jacksonville. Their vaccines are up to date once they've received an additional booster each year, "just like the influenza vaccine," he says.
Everyone ages 6 & older
All people ages 6 and up — adults included — now have the same vaccine guidance (though the dosage will vary between children and grownups, of course). So, be sure you've had one updated bivalent booster, and plan to get the newer one that covers the XBB variant when it's available in late September, says Wolfe.
Seniors 65 & up
Wolfe says the latest recommendation for people ages 65 and older who have had their initial two doses of the vaccine and one booster is to receive a second booster. You'll want to get the new Covid booster when it's available in the fall too.
"It is immunosuppressed patients and those who are older who are still getting sick enough to come into the hospital," he says. "For this group, probably they had their original vaccine course in 2021, and then a bivalent booster in September or October of 2022. They should have had one additional boost in the last month or two, and also prep for an updated XBB vaccine in September."
Those who are immunocompromised
To be up to date, people who are 6 months and older and are moderately or severely immunocompromised have specific recommendations. It's best to speak with your doctor about how many shots you've received so far and when you should schedule for another, but here are some rough guidelines:
"If you have not had any Covid-19 vaccine (unvaccinated) and then get three updated Covid vaccines, you may get one or more additional updated Covid-19 vaccines," Katugaha says. "If you have been vaccinated and got the original Covid-19 vaccines and then one or two updated Covid vaccines, you may get one or more additional updated shots."
Keeping your family protected against Covid
In addition to getting vaccinated, Rathore says the things parents have always done to keep Covid at bay continue to be important: "Get the flu shot, the updated Covid vaccine, and the RSV immunization if your child is eligible. Practice good hand hygiene, and if you're sick, don't go to work, school, or childcare," he says.
He recommends that parents also speak to their child's doctor about the new RSV immunization Beyfortus, which has been shown to reduce the risk of hospitalizations for infants with RSV by about 80%. It's recommended by the FDA for infants born during or heading into their first RSV season, and children up to 24 months old who are vulnerable to severe RSV. Rathore assures parents that it is safe for babies and toddlers to receive this immunization with the flu and Covid vaccines, all at one (admittedly prickly) appointment.
Experts:
Dr. Shalika Katugaha, M.D., system medical director of Infectious Diseases at Baptist Health
Dr. Cameron Wolfe, MBBS, infectious disease specialist at Duke Health
Dr. Mobeen Rathore, M.D., chief of pediatric infectious disease and immunology at Wolfson Children's Hospital of Jacksonville
This article was originally published on