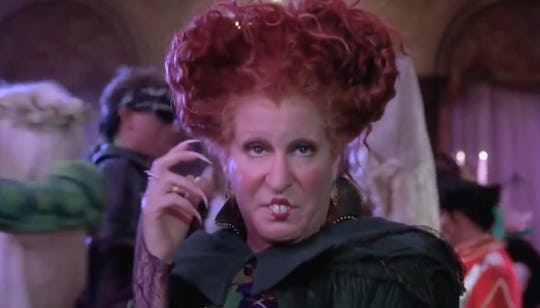 Disney
18 Spooky Disney Songs To Make The Ultimate Halloween Playlist
From The Nightmare Before Christmas to Hocus Pocus, these Disney movies offer up spooky tunes for a scary-fun Halloween night.
What could possibly make Halloween more fun than buckets of candy, imaginative costumes, and late bedtimes? How about a scary good playlist filled with Disney's greatest, spookiest hits? From modern classics like The Nightmare Before Christmas and Hocus Pocus, to kid-favorite cartoons like Sofia the First and Vampirina, these productions are bursting with songs perfect for a holiday dance party. There's a mix of thumping, raucous tunes and eerie ballads that'll set the tone and create a haunting mood. And the songs here are perfectly ordered to just download and play. So whenever you decide to kick off the festivities — be it at the beginning of October or the day of trick-or-treating — a playlist of Disney Halloween music is an easy way to get everyone in the spirit.
If you're having a festive little Halloween party, or simply sitting around the dinner table with the family, you can also add a fun game element to the night: Just let this playlist run and offer a piece of candy as a prize to the first person who correctly identifies from which movie each tune originated. Bonus points (or M&Ms) if the person can correctly name the character who sings the song. Because what's more sugar on the year's (literally) sweetest night?
Where to find Disney Halloween music
The good news if you want to cue up some spooky season hits is that Disney Halloween music playlists can be found in a ton of different places. You can access the official Disney Halloween playlist on streaming platforms including Spotify, Apple Music, Amazon Music, YouTube, Pandora, and more. If you've exhausted that playlist and want to switch it up, there are also countless mixes out there made by individuals featuring deep cuts and well-curated song selections. Regardless of what method you choose, there are plenty of ways to listen to all of the sinister and spooky songs Disney has to offer this October. And if you're in the mood to create your own, below are some major must-haves for any Disney Halloween music playlist.
With the help of any and all of these Disney Halloween songs, you'll be able to conjure up major spooky vibes. Whether you're getting ready for an evening of pumpkin carving or DJing on October 31, these festive tunes will definitely set the ghoulish mood.
This article was originally published on