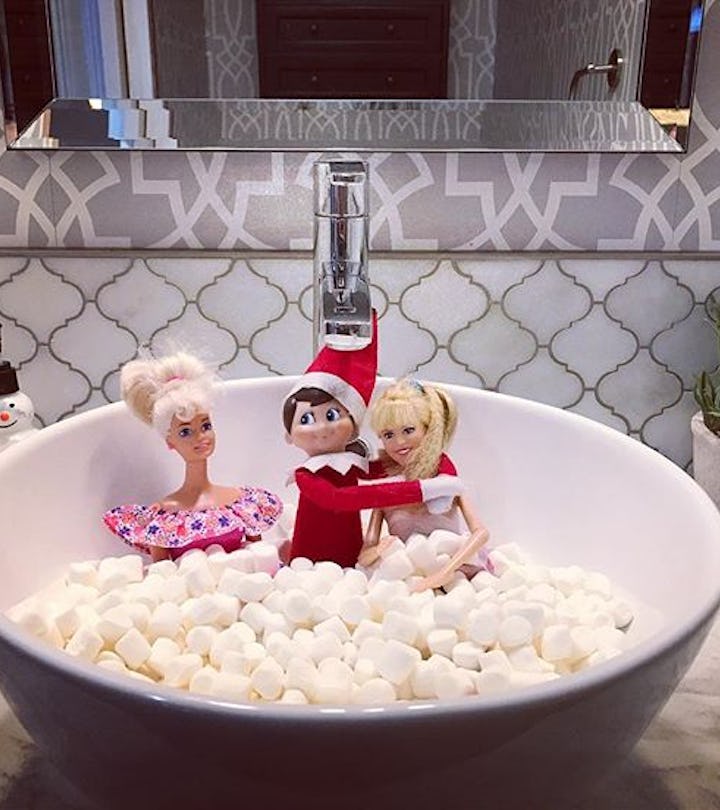 Courtesy of ashstatz on Instagram
31 NSFW Elf On The Shelf Ideas For Adults
Just don't let the kids see.
Once the Elf on the Shelf starts making an appearance, you know the holiday season is in full force. But when you need a break from the cutesy set ups, it may be time to brainstorm Elf on the Shelf ideas for adults.
This is perfect for those nights when you just need a good laugh in the midst of the holiday stress. It also works if your kids are fast asleep and you just need a moment for some grown-up humor. (After all, you will want to make sure the little ones don't sneak a peek at these adult Elf on the Shelf ideas — but if you do need ideas to keep them entertained, there are plenty mischievous Elf ideas to go around). They aren't exactly the definition of kid-friendly; many of these Elf on the Shelf ideas for adults are even worthy of a "NSFW" warning.
But first, a little history. The Elf on the Shelf tradition was created by Carol Aebersold and Chanda Bell. It features a charming scout elf from the North Pole who lets Santa know which kids are being naughty or nice. The concept also involves setting up the elf in mischievous poses around the house, waiting to surprise the children.
Although it's a kids' tradition, the internet proves that grown-ups have figured out to get a good chuckle out of it. Don't believe us? Check out these adult Elf on the Shelf ideas to keep grown-ups entertained all month long.
Grossed out or cracked up, you might need a little Elf on the Shelf humor to get you through the next few weeks before the holidays. These most definitely won't be the family-friendly Elf on the Shelf ideas you need for surprising your kids during the holiday season, but these ideas will certainly break up the Christmas chaos with some adults-only fun. The holiday season is definitely not just for kids.
This article was originally published on