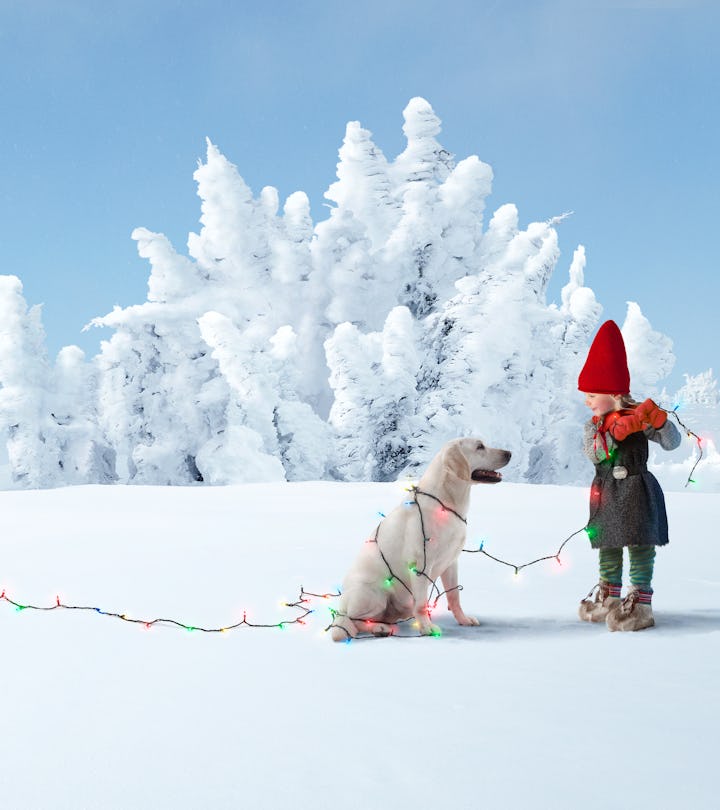 Per Breiehagen/Stone/Getty Images
15 Elf On The Shelf Ideas That Involve The Family Pet
You can have some fun with this one.
Coming up with a different Elf on the Shelf scene every night can be fun, but chances are, you want to change things up a bit. To do so, why not bring the family pet into the tradition? These creative Elf on the Shelf ideas that involve pets show that four-legged friends (or those with fins) make great props for the different scenarios that you put Santa's little helper in. Well, at least some of the time.
If you plan on setting up these elves with your pets, then you'll definitely want to just take a picture or shoot some video featuring their encounter and show them to the kids later. By doing so, you'll help enforce the "no touching" rule that goes with the elf, so that the magic stays in tact. Plus, you'll have time to stage a few reshoots, in case it takes Fido a few minutes to get used to the whole elf idea.
But you can also set up your elf with different pet items throughout the house so that it looks like they were involved in taking care of your furry family member, too. Maybe the kids find the elf with the dog food, or the leash is ready to go by the elf, hoping they can take your pup for a walk.
Can cats and dogs touch Elf on the Shelf?
The "no touching" rule applies to anyone in the house; parents, kids, grandparents, visitors. However, cats and dogs don't really understand what the Elf on the Shelf is and what it's doing in their home. To them, it might look like a toy — it's small, lightweight, and a bright color. Even though you don't necessarily want your pet touching Elfie, he certainly won't lose his magic. Elfie and Santa understand that cats and dogs have a mind of their own, so if your pup accidentally decides to play with Elfie, don't worry, just rely on your handy-dandy tongs to separate your pet and the elf. Remember: Humans can't touch, pets can if it's an accident. And if you're really worried, you could always keep your elf tucked away in something like an elf carrier to keep them protected from the elements of the real world.
By bringing your pets into the elf tradition, it helps to solidify what you already know: Pets are totally a part of the family, too. Even if your fur baby doesn't take to the elf at first — cats in particular seem a bit wary of him — it's still fun to film their reactions. Just make sure to keep the elf away from any dogs who might be tempted to use him as a chew toy once your scene has wrapped.
Yes, Elf on the Shelf is a children's Christmas tradition, but who said pets can't be involved? Pets make every situation better, especially the hectic holiday season, so it's quite inevitable that they'll add a magical twist to Elf on the Shelf. And if you're running out of Elf on the Shelf ideas, including pets in the skit opens up tons more options for setting the scene in your house.
This article was originally published on