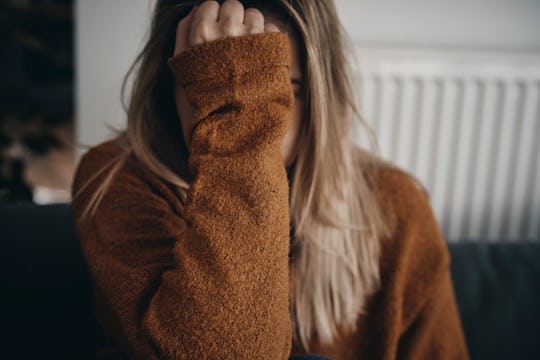 Anna Bizon / EyeEm/EyeEm/Getty Images
These Are The 4 Most Temperamental Zodiac Signs, According To Astrologers
It's possible they might react harmfully to certain triggers.
We all have our hot buttons, and some people are particularly good at pushing them in others, striking a nerve they know will hurt. Though no one is inherently predetermined to have this trait based on when they were born, astrologers believe there might be some zodiac signs most likely to be abusive or emotionally manipulative.
Emotional manipulation is all about controlling other people. The manipulator often feels insecure about themselves or unsure of the other person's love and support, so they react by trying to bring the other person down. Common emotionally abusive tactics include showing scorn, shaming, criticizing, belittling, withholding affection, and shutting out.
Some zodiac signs are more likely to be prone to emotional manipulation and hurting people's feelings. However, that doesn't mean everyone born under them is a potential abuser — or that the other signs won't show signs of manipulation, either. "It is important to keep in mind that all signs are capable of being emotionally abusive at times, depending on planetary transits to one's personal birth chart," astrologer Lisa Barretta, author of Conscious Ink, tells Romper. "A softer rising sign may very well temper a sign who has a more disruptive nature."
Astrologers believe it is possible certain zodiac signs will react a certain harmful way to certain events or triggers, but that by no means implies that these signs are hard-wired for emotional abuse. "There are many astrological factors that contribute to a person's behavior (not to mention non-astrological factors, too) and like everything else, our behavior should be viewed as more than black and white," Erin River Sunday, lead astrologer at Birthdate Co., tells Romper. "We all experience a multitude of emotions and feelings in any given week — and often, in any given day! That said, there are a few astrological signs that can find themselves in hot water when it comes to matters of the heart, simply because it's often what they're closest to — and therefore don't have as much perspective on."
Simply based on personality leanings, the following four zodiac signs may be slightly more prone to emotional abuse, according to the experts. By no means does this excuse abusive behavior, though. If you believe someone in your life is abusing you emotionally, please seek professional help or contact the National Domestic Violence Hotline at 1−800−799−SAFE(7233).
All in all, take these explanations as a piece of information to keep in mind, not a foolproof guide as to who will be emotionally hurtful and who will not. "Without self-awareness, these signs are prone to emotional manipulation, but any sign (and all signs) of the zodiac are likely to experience these behaviors at different times throughout their life," Sunday says.
Sources:
Lisa Barretta, astrologer and author of Conscious Ink
Erin River Sunday, lead astrologer at Birthdate Co.
This article was originally published on