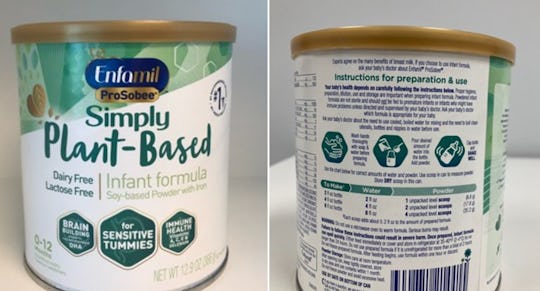 Reckitt
145,000 Cans Of Enfamil Plant-Based Baby Formula Have Been Recalled
The recalled formula may be contaminated with a bacteria that can cause severe, life-threatening infections in newborns.
Enfamil has voluntarily recalled about 1450,000 cans of infant formula because they may be contaminated with a dangerous bacteria that can cause life-threatening infections in newborns. Reckitt, the manufacturer of the baby formula, announced on Feb. 19 that two batches of Enfamil's ProSobee Simply Plant-Based Infant Formula could potentially contain Cronobacter sakazakii. While the recalled batches have tested negative for the bacteria and no adverse reactions or illnesses have been reported, the company has announced the recall "out of an abundance of caution."
"We are committed to the highest level of quality and safety and it is for this reason that we have taken this extraordinary measure," Reckitt said in a recall announcement. "The batches in question tested negative for Cronobacter and other bacteria and this is an isolated situation." An investigation linked the potential contamination to a "material from a third party," according to the manufacturer. "We have taken all appropriate corrective actions, including no longer sourcing this material from the supplier."
The two batches included in the recall are both 12.9 oz. containers of Enfamil ProSobee Simply Plant-Based Infant Formula. They were manufactured between August 2022 and September 2022 and distributed in retail stores nationwide as well as Guam and Puerto Rico. The recalled baby formula can be identified with the following information:
"Use By Date" of "1 Mar 2024."
Product batches: ZL2HZF and ZL2HZZ both with a UPC Code of 300871214415.
If your infant formula is included in this recall, you can return it to the place of purchase for a total refund or simply dispose of it.
Infections from Cronobacter are rare, but can be severe or deadly in infants less than 12 months old, potentially leading to sepsis or meningitis, according to the Centers for Disease Control and Prevention (CDC). The bacteria is naturally found in the environment and can live on dry foods like infant formula and powdered milk. Cronobacter infections in infants are most often linked to baby formula, the CDC explains, and infants who are most likely to get sick from the bacteria are younger than 2 months old, born prematurely, or those with a weakened immune system. If your baby experiences symptoms related to Cronobacter illness — typically beginning with a fever, poor feeding, excessive crying, and very low energy — the CDC urges parents to contact your medical provider as soon as possible.
"The health and safety of infants is our highest priority. All of our products undergo rigorous and industry leading quality tests and checks to ensure that they meet or exceed all standards set by regulatory bodies, including the World Health Organization and the U.S. Food and Drug Administration," Reckitt said. "It is for this reason that we have the highest level of confidence in the safety and quality of every infant formula we make."
Parents with further questions or concerns about this recall are directed to call the company at 1-800-479-0551, which is open 24/7, or reach out by email at consumer.relations@rb.com.