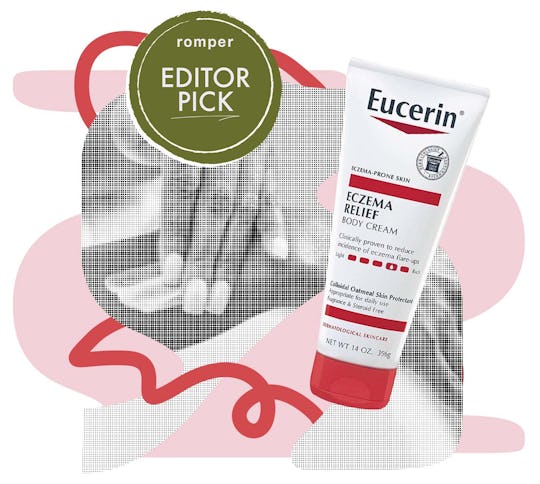 The Only Thing That Cures My Dry, Itchy, Winter Crocodile Legs
Had To Share
We may receive a portion of sales if you purchase a product through a link in this article.
Post-holidays winter is my least favorite time of year for a variety of reasons, but perhaps second only to my recurring February slump is the torment of whatever the heck happens to the skin on my legs. Yes, friends, you came for some glamorous talk, and you're getting it. Usually, my two favorite lotions — Kiehl's Creme de Corp and Weleda Skin Food — can solve any dry skin issue, but this winter I found myself literally scratching my shins in my sleep until I bled. (Are you so jealous of my husband? Oh yeah!) Desperate, I turned to the big guns (drove to Target) and was astonished to find almost immediate relief.
I've never been officially told that I have eczema, though I am pretty sure I am prone to stress-related eczema on my ring finger. (Is that a thing? I get little itchy red bumps there sometimes when I am super anxious. The human body is a miracle!) The leg situation is a winter thing, and I presume it has to do with the dry air outside, exacerbated by our million-year-old radiator heating.
The skin doesn't look too different — dry, yes, but no rash-like situation — but it becomes soooo itchy. Tortuously so! That's maybe why it never occurred to me to try something with the word "eczema" in it, is what I'm saying. Silly, silly me.
Stats
Price: $11 for 8 ounces
Who it's for: Adults, children, and babies 3 months and older.
When to use: It's fine to use every day.
Pro-tip: I like to apply right after the shower.
How it feels
Listen, as an editor, I am someone with access to a lot of free beauty and skin care products, including extremely fancy, high-end stuff. I've tried many, many, MANY body and face creams, lotions, and potions, and I am picky. And though I would spread tar on my legs if it would stop the itching, I really like the way this cream feels going on. Instantly soothing; not too heavy; not at all greasy, but nice and luxe-feeling.
The first time I used it I truly felt some relief almost immediately. I used it a couple times a day for a while — as soon as I felt a twinge of itch returning — and now I mostly just slather it on after the shower. This stuff promises on the label to be "fast absorbing" and I find it is. I have also been known to swipe it on before getting in bed, and it's not some big ordeal where you have to wait for ten minutes before you can slither into your pajamas.
The ingredients
While it's labeled as "fragrance-free," I find Eucerin Eczema Relief Cream does have a nice, mild, cleanish scent, and I feel a little bit of menthol-esque feeling when I first put it on, if that makes sense. It's extremely soothing. The label also promises that it is steroid-free.
The hero/active ingredients are:
Colloidal Oatmeal, which is actually made from oatmeal, and works as anti-inflammatory skin protectant. It's used in a lot of skin care products, including treatments for all kinds of dermatitis as well as chicken pox and insect bites. I know it works because I've been a longtime fan of, and also recommend, Aveeno soothing oat bath treatment for dry, itchy skin.
Ceramide-3, a type of moisturizer that "improves the skin barrier function in humans," per the National Institute of Health (NIH). Guess it also works for crocodiles like me.
Licochalcone, a licorice root extract. Interestingly, licorice root extract is used to combat sun spots and skin discolorations — it's a powerful antioxidant that offers anti-inflammatory benefits. But here, it's the soothing properties that add magic to this product.
The packaging
It's simple and to the point. It's easy to squeeze out and the lid makes a satisfying snap. No complaints, no notes.
The results
Legs that do not itch so much I scratch them in my sleep. I will also note that on Amazon, it's got a 4.7-star rating (with 12,744 total ratings), and on the Eucerin site, 4.5 stars, with someone titling their review "Godsend."
Pros & cons
Pros:
It's affordable.
It's easy to find in any drugstore or online.
It feels nice going on and doesn't leave my hands sticky or greasy.
It works.
Cons:
Literally none, as far as I'm concerned. However, I did see a review on the Eucerin site saying they wished it came in a tub, rather than only a squeezey tube, because they "cut these tubes open to get the last ounces out." I get it, but I like the squeezey tube. Easier to use with crocodile claws.
The final verdict
I love this stuff so much that I made an Instagram story about it to spread the word and then I wrote 750 words about it.
The TL;DR
Goodbye, itchy winter crocodile legs of torture!
Had To Share highlights the products and finds that Romper editors and contributors love so much, we just had to share in the group chat.