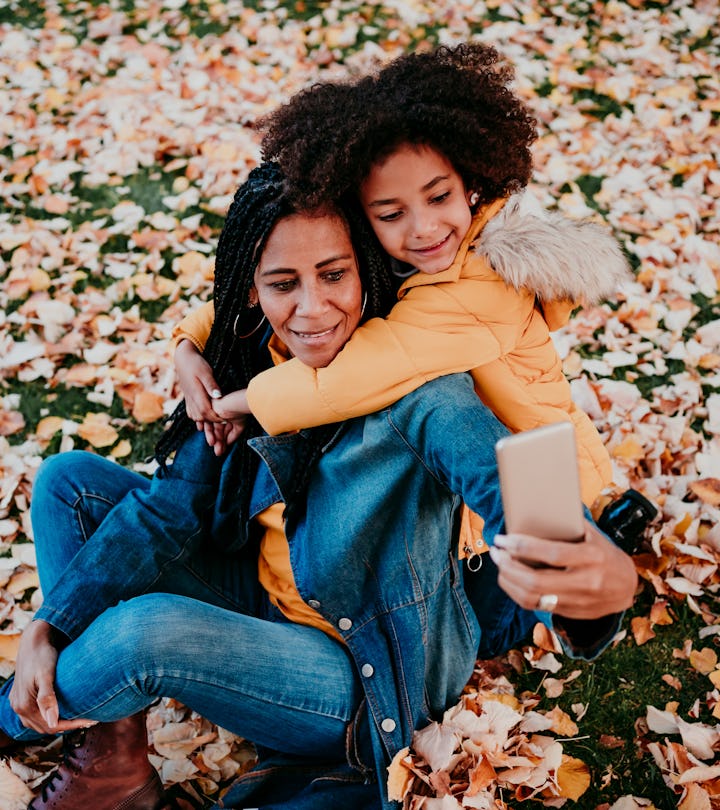 Westend61/Westend61/Getty Images
83 Fall Instagram Captions For Your Sweater-Weather Selfies
It's more than a season, it's a lifestyle.
It's officially the time of year where flannel, freshly-fallen leaves, pumpkin spice, and everything nice takes center stage in our lives and across social media. When your feed fills with a flurry of orange hues, snuggly scarves, and fuzzy Ugg boots this autumn, you can reach for these fall captions Instagram followers looking at your page will totally adore. Keep them handy to accompany your best seasonal snapshots as you check every item off your fall bucket list.
When you head to the pumpkin patch with the whole family in tow, stroll through an apple orchard with your sweetheart, spend a cozy evening by a bonfire, or make a delicious pot of chili, the photos from your favorite festive activities deserve a snappy Instagram caption. But so do the everyday moments that make fall so magical — your first PSL, a pile of freshly-raked leaves in your yard, and the day it's finally cool enough to wear your favorite jacket. The season is also prime time for football to take over the sports landscape, so there's a few ideas on this list for fall sports fans as well. Take a look at these fall Instagram captions and find the perfect fit to document all that autumn has to offer.
Cute fall Instagram captions
All the fall feels.
Happy harvest!
New season, who dis?
Sippin' on cider.
Fall so hard.
Happy fall, y'all!
Orange you glad it's fall?
Let's get cozy.
Channel the flannel.
Can't reply, eating a pie.
Peace, love, and leaves.
Goodbye summer, hello fall.
'Tis the (fall) season!
Punny fall Instagram captions
Fall-ing for you.
I like you a (pumpkin spice) latte.
You're the apple of my pie.
Oh my gourd, I love this season!
Ready to pumpkin spice things up.
I only have pies for you.
Ready to channel all the flannel.
Don't stop be-leaf-ing.
Spice, spice baby.
Let's give 'em pumpkin to talk about.
This fall is going to be a-maize-ing!
Hay you, it's fall!
It's fall coming back to me now.
How 'bout them apples?
You're unbe-leaf-able.
Turning over a new leaf.
I haven't tripped, but here I am in the fall.
Just a bunch of cutie pies.
Classic & sweet fall Instagram captions
Keep calm and stay cozy.
Happy fall, y'all!
Pumpkin spice and everything nice.
Nothing's better than sweater weather.
Leaves are falling, autumn is calling.
Autumn skies and everything's fine.
'Tis the (fall) season!
I love fall most of all.
Goodbye summer, hello fall.
Orange you glad it's fall?
My favorite color is fall.
Happy harvest!
Fall so hard.
All the fall feels.
You're never too old to play in a pile of leaves.
Thankful for fall.
I feel summer on my skin, but autumn in my soul.
It's more than a season, it's a lifestyle.
New season, who dis?
All I need is football and flannel.
Sippin' on cider.
You call it fall, I call it football season.
I can feel a cool breeze and see autumn leaves.
Sweater weather is better together.
Nothing beats a brisk breeze and falling leaves.
It's not fall without football.
Hot tea is like a hug in a mug.
Fall Instagram captions about pumpkins & pumpkin picking
Have no fear, pumpkins are here!
Autumn leaves and pumpkin please.
Pumpkin kisses and harvest wishes.
Blessed and pumpkin-obsessed.
Pumpkin patch season is upon us.
Picked the best one.
Orange is the new black.
Time to get smashed.
Running on pumpkin-flavored everything.
Go big or gourd home.
You're the pick of the patch.
I love you more than pumpkin pie.
My blood type is pumpkin spice.
I've never met a pumpkin I didn't like.
You're the pumpkin to my spice.
The only thing getting lit tonight is my pumpkin candle.
There's a new pumpkin in the patch!
Famous quotes & song lyrics about fall
"Autumn leaves don't fall, they fly. They take their time and wander on this, their only chance to soar." — Delia Owens
"Every leaf speaks bliss to me, fluttering from the autumn tree." — Emily Bronte
"Life starts all over again when it gets crisp in the fall." — F. Scott Fitzgerald
"I'm so glad I live in a world where there are Octobers." — L.M. Montgomery
"Autumn is a second spring when every leaf is a flower." — Albert Camus
"And all at once, summer collapsed into fall." — Oscar Wilde
"Notice that autumn is more the season of the soul than of nature." — Friedrich Nietzsche
"Autumn... the year's last, loveliest smile." — William Cullent Bryant
"Autumn leaves falling down like pieces into place." — Taylor Swift
"Wake me up when September ends." — Green Day
"It's autumn in New York, it's good to live it again." — Ella Fitzgerald
"I come alive in the fall time." — The Weeknd
"Do you remember the 21st night of September?" — Earth, Wind, & Fire
"But I miss you most of all, my darling, when autumn leave start to fall." — Frank Sinatra
"October and the trees are stripped bare of all they wear. What do I care?" — U2
"It's harvest time in this little town." — Luke Bryan
"If you are chilly, here take my sweater." — Ingrid Michaelson
"I'm still in love with you, I want to see you dance again. Because I'm still in love with you on this harvest moon." — Neil Young
Even if you're the kind of person who just can't wait for the temperature outside to warm up enough to hit the beach again, there's no denying that these are the fall captions Instagram users can post to celebrate all things autumn.
This article was originally published on