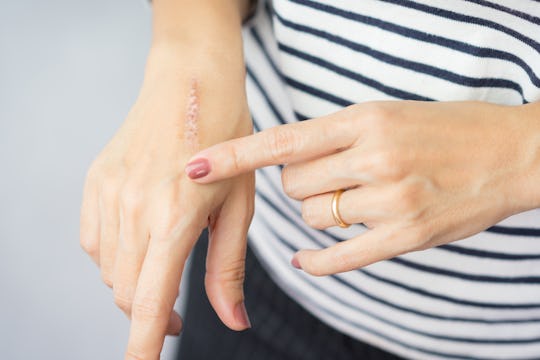 Shutterstock
Do you Scar Easily? Here's What That Might Say About Your Health
It could come down to your genes.
Chances are pretty good that you've gotten a scar at least once in your life. Whether it was an accident as a kid — learning to ride your bike, running around the neighborhood, roller skating — or an incident that happened when you got older, sometimes cuts, scrapes, burns, and surgeries can leave a permanent mark. Scarring can actually indicate some fascinating things about your health that might be worth knowing, particularly if you're accident-prone. But first, note that even if you do scar easily, that doesn't necessarily mean there's any underlying condition to be concerned about.
There are a number of reasons why you might experience scarring from time to time, but why do some people scar more than others? "Scarring easily has more to do with your genetics than with your health," Dr. Suzanne Friedler, M.D., board-certified dermatologist with Advanced Dermatology PC and clinical instructor of dermatology at Mount Sinai Medical Center, tells Romper. "Some people scar easily and others don't."
What's more, it's not always a reflection on your health. "The same person can scar differently in different body locations," Friedler continues. "Chests tend to heal poorly. The cartilage high up on the ear may scar worse than the fleshy ear lobe. Also, people with darker complexions tend to scar worse than people with fair skin. The best indicator may be looking at how close family members scar."
Scars can appear even with injuries that you don't think are severe enough to result in one, which goes to show that it can be difficult to predict when a scar will occur and when your injury will heal without a trace. If you do scar relatively easily, it's likely just your genetics at play, but there are also a few conditions that also can result in easier scarring. Here's what you need to know before you get that next pesky cut or burn.
Easy scarring may not be a huge issue, but if you're concerned about how quickly and frequently you're dealing with scars, breaking those concerns down with your doctor is a good place to start. It might be something that can be easily addressed or, at the very least, you might be able to work out a plan to try to minimize the effects.
Studies Referenced:
Moores J. (2013). Vitamin C: a wound healing perspective. British journal of community nursing, Suppl, S6–S11. https://doi.org/10.12968/bjcn.2013.18.sup12.s6
Sadiq A., Khumalo N.P., Bayat A. (2020) Genetics of Keloid Scarring. In: Téot L., Mustoe T.A., Middelkoop E., Gauglitz G.G. (eds) Textbook on Scar Management. Springer, Cham. https://doi.org/10.1007/978-3-030-44766-3_8
Ogawa R. (2017). Keloid and Hypertrophic Scars Are the Result of Chronic Inflammation in the Reticular Dermis. International journal of molecular sciences, 18(3), 606. https://doi.org/10.3390/ijms18030606
Boyera, N., Galey, I., & Bernard, B. A. (1998). Effect of vitamin C and its derivatives on collagen synthesis and cross-linking by normal human fibroblasts. International Journal of Cosmetic Science, 20(3), 151–158. https://doi.org/10.1046/j.1467-2494.1998.171747.x
McDaniel, J. C., & Browning, K. K. (2014). Smoking, chronic wound healing, and implications for evidence-based practice. Journal of wound, ostomy, and continence nursing : official publication of The Wound, Ostomy and Continence Nurses Society, 41(5), 415–E2. https://doi.org/10.1097/WON.0000000000000057
Experts:
Dr. Suzanne Friedler, M.D., board-certified dermatologist with Advanced Dermatology PC and Clinical Instructor of Dermatology, Mt Sinai Medical Center
Dr. Rachel Maiman, M.D., FAAD, board-certified dermatologist at Marmur Medical
This article was originally published on