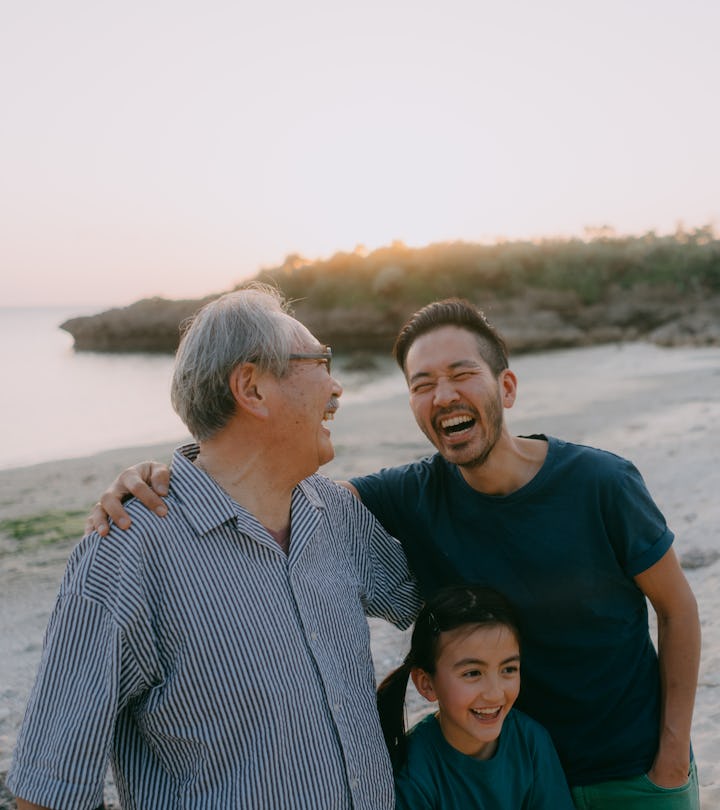 Ippei Naoi/Moment/Getty Images
40 Father's Day Facebook Captions If You're Not Sure What To Say
Show your old man some love.
Dads are the best — they always have that one weird tool you need to fix your sink, they'll drop what they're doing to help you when you need it, and they're usually the ones keeping things light and funny at the holiday meals. You could call out all those thing you love about him and more, if you need Father's Day Facebook post ideas this year. Or, you could borrow some fatherhood quotes from well-known writers, post a nice photo of the two of you, or just copy and paste a little note from the internet. It's not cheating, promise.
How you write your Father's Day Facebook captions depends on your relationship with the Papa Bear in question, of course. If you and your pops keep things short and sweet, there are captions for that. If you're honoring your husband with a sweet post, you can always get a little more sentimental there. And if you'd rather the whole thing come from someone else, fear not: there are countless Father's Day quotes out there. One of them is bound to say what you feel. And hey, if he's not on social media, don't hesitate to print him out a card and deliver your sweet message that way. He'll love it.
Whatever you say to honor your dad, stepfather, or husband, they'll appreciate the love (and public shout-out) on their special day.
This article was originally published on