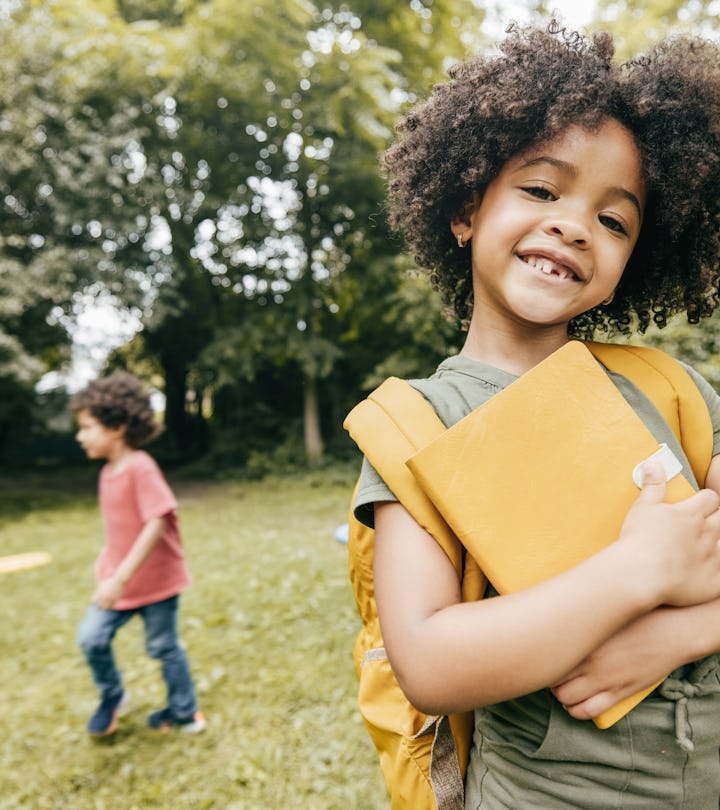 kate_sept2004/E+/Getty Images
77 Sweet & Funny Photo Caption Ideas For The First Day Of School
Whether you use a chalkboard or just take a picture of them running for the bus.
Just like meltdowns over misplaced backpacks and worries over what time the bus is actually supposed to show up, snapping a back-to-school picture of your kids to post on Instagram, Facebook — or even a video on TikTok — is a modern-day parenting tradition. Once you've got the perfect (or at least decent enough) shot, the only question is what to say about it on social media. These first-day-of-school photo captions run the gamut from sweet to celebratory to humorously sarcastic, so you're sure to find one that describes how you're feeling about this monumental occasion... whether you're a bundle of nerves or borderline giddy.
My younger kids love posing for photos on the first day of school. They want to show off their new school clothes, Super Mario backpack, and the fact that they have reached a new grade level. As kids get older, however, pushback on taking a back-to-school photo may rear its ugly head. Even if they insist on ditching the Pinterest-worthy chalkboard sign, you'll likely still be able to get at least one quick snap for Instagram through the junior high and high school years. And when you do, these first-day-of-school captions will be ready and waiting to accompany your post.
The beginning of a new school year can feel so many ways — exciting, hectic, or even scary — and sometimes all at once. No matter what this school year holds for your kids, there's a first day of school caption to fit nearly every situation.
This article was originally published on