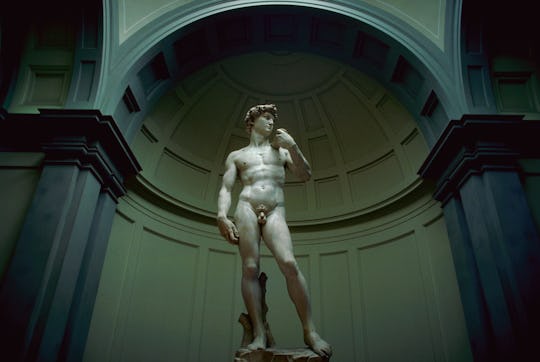 Todd Gipstein/Corbis Historical/Getty Images
Florida Parents Complained Michelangelo's David Is Pornographic & Now Italy Is Involved
Italian officials have invited families and staff to visit the statue of David by Michelangelo after a school principal was pressured to resign over the image.
Italy has given America so much — food, fashion, art, and now, a much welcomed dose of common sense. When news spread that a Florida principal was forced to resign after students saw a picture of Michelangelo's David, the bemused Mayor of Florence, Italy and the director of the Galleria dell'Accademia both extended invitations to the educator and the school's community to come judge for themselves whether the Renaissance masterpiece is pornography.
The Tallahassee Democrat reported the principal of Tallahassee Classical School, Hope Carrasquilla, was forced to resign by the school board after three families complained after sixth grade students were shown a picture of the iconic sculpture, which one of the complainants categorized as "pornographic."
"Mistaking art for pornography is just ridiculous," Florence Mayor Dario Nardella tweeted (in Italian) over the weekend. "I will personally invite the teacher to Florence to give her recognition on behalf of the city. Art is civilization and whoever teaches it deserves respect."
Carrasquilla, who the Tallahassee Democrat reports is the Classical School's third principal since it opened in 2020, said in a phone interview with the Associated Press (AP) that she is "very honored" by the invitation and may accept.
The statue has been on display at the Galleria dell'Accademia since 1873, and current director Cecelie Hollberg also extended an invitation not only to the former principal, but the school board, parents, and student body. "To think that David could be pornographic means truly not understanding the contents of the Bible, not understanding Western culture and not understanding Renaissance art," she told the AP. In a later interview with ABC27 in Pennsylvania, the director likened studying Renaissance art without looking at David to eating dinner with no food on the table.
Carrasquilla told HuffPost that Tallahassee Classical School has a policy of providing written warning to parents before "controversial" topics are taught and that through "a series of miscommunications," that letter did not get sent to the students in question. Incidentally, the sixth grade curriculum can be found very easily on the school's website... you might even say it's a written warning to parents about what their children are going to be studying. The curriculum spans the Classical period (aka Egypt, Greece, and Rome aka The Era Of Nude Statues) to 19th century Realism (aka when the likes of Courbet and Manet were painting a lot of nude women in beds).
This publicly-funded charter school follows curriculum put out by Hillsdale College, a conservative Christian college in Michigan which seeks to counter "leftist" curricula. In speaking of Carrasquilla's resignation — which was offered as an alternative to a firing — Barney Bishop, the chairman of the school's board told HuffPost that the David incident was just one of the issues that resulted in her departure from the school and that, ultimately, "parental rights trump everything else."
The Classical School's website purports that the institution seeks to "train the minds and improve the hearts of young people through a content-rich classical education in the liberal arts and sciences." The website also states, "Reform of American public education, to be successful and good, must be built on a foundation of classical liberal arts learning-the kind of learning best suited to a free society and most needed for it [sic] preservation." Apparently, the school believes this can and should be achieved by treating 500-year-old statues, widely acknowledged as a pinnacle of artistic achievement in the Renaissance, as "controversial." Other things deemed inappropriate for students? Per Bishop's interview with HuffPost: "We don't use pronouns. We don't teach CRT [Critical Race Theory] and we don't ever mention 1619 — those are not appropriate subjects for our kids." (Fun fact: despite Bishop's claim, that single quote uses five pronouns.)
For many Americans, this is ultimately at the crux of the issue: Florida has been at the vanguard of "parental rights" in schools, which has been a catch-all phrase used to justify the state's so-called "Don't Say Gay" law, banning AP African-American studies, and effectively banning "unvetted" books. This latest incident, for many, stands as a symbol of something bigger... and so, too, does David itself. When it was first unveiled in 1504, Janson's History of Art claims that the city of Florence, which prided itself on its representative government, saw the statue as a symbol of "its own republican virtues," a fact that, perhaps makes this latest issue all the more poignant.