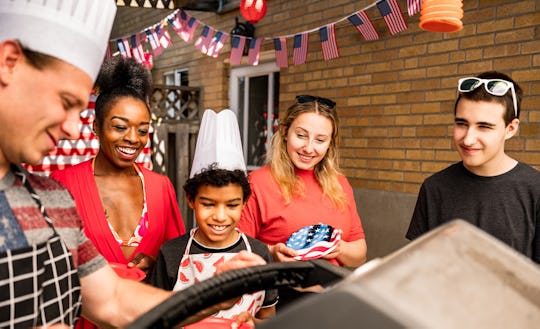 FOTOGRAFIA INC./E+/Getty Images
These 30 4th Of July Memes Will Crack You Up
Here's the thing about memes, they're funny because they're often true. That's why these Fourth of July memes are so on time. Everyone has that one friend who's a little foggy on American history but is all kinds of patriotic come Independence Day. Sure, they get Thomas Jefferson and Captain America confused, but start playing Lee Greenwood's "God Bless the U.S.A." and they'll suddenly appear misty-eyed clad in an American flag jumpsuit. These memes might make you think of them.
What can we say? Americans are extra when it comes to love of their country and the levels many will go to share their patriotism are sometimes baffling. Who can forget the Florida man who stood outside in the midst of Hurricane Dorian, a giant stars and stripes in hand, blasting Slayer (per the Miami Herald)? Have you ever seen a Swedish person do that?
Perhaps Americans' gaudy displays of national pride are the result of knowing just how lucky we are. "We hold these truths to be self-evident that all men are created equal" was an astounding statement for its time and in much of the world continues to be a revolutionary concept. And that's worth celebrating with some hilarious Fourth of July memes.
Now that you've had a laugh, put on your best Uncle Sam suit, fire up your computer, and share these hilarious memes with friends to celebrate your American-made freedom of speech.
This article was originally published on