GET READY, SOCIAL BUTTERFLIES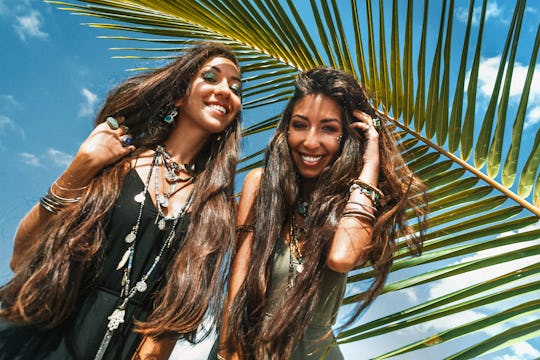 Shutterstock
Gemini Captions As Witty & Fun As You
Embrace the lively energy of the season of the twins!
Put on your party dress and get ready to feel some big feelings: Gemini season (May 21 to June 21) is upon us! Gemini are the social butterflies of the zodiac. At their best, they are charming, smart, witty, easy-going, and funny. At worst, this air sign ruled by Mercury, also known as "The Twins," can be moody, impulsive, snarky, two-faced, and anxious. But once you're in with them, they are unfailingly loyal friends and always, always the life of the party. So if you (or someone you love) has a Gemini birthday, you know the celebration is going to be one for the books... and definitely for the 'Gram. That's why you need Gemini Instagram captions. Whether you just want to celebrate with a Gemini birthday caption or want to bask in Gemini season generally (a whole month ruled by Mercury is sure to be eventful), we've got you covered!
Gemini Instagram captions
It's Gemini Season!
Get ready for double the everything #GeminiSeason
Geminis: social butterflies with anxiety tummy aches basically all the time.
Mercury isn't in retrograde, but it's ruling this entire season.
Being with a Gemini is like a box of chocolates, you never know what you're going to get.
I'm not overthinking: I'm a Gemini!
If you want something done right, you've got to get a Gemini to do it.
Is it a mood swing or is she just a Gemini embracing her truest self?
It's Gemini season: prepare some very big, often contradictory feelings.
Enjoy the good life this Gemini season before the Cancers come in and cry all month long.
Gemini birthday captions for Instagram
It's my party and I'll cry if I want to... and there's a 50/50 chance I will... because #GeminiProblems
Geminis are two-times the fun!
I feel pretty! Oh so pretty! I feel pretty and witty and of course I do: I'm a Gemini!
It's my season and your little Gemini is thriving.
As a Gemini, I can very clearly and persuasively articulate why you should be celebrating me all month long.
Even more the life of the party than usual #GeminiInGeminiSeason
Obviously this Gemini wasn't going to let a party opportunity go to waste...
I'm always the center of attention because I should be. #Gemini
Going hard this birthday like the Gemini queen I am.
It's a Gemini thing...
Quotes from famous Geminis
"A wise girl knows her limits. A smart girl knows that she has none." — Marilyn Monroe (June 1, 1926)
"Think globally, act locally." — Paul McCartney (June 18, 1942)
"When I get logical, and I don't trust my instincts — that's when I get in trouble." — Angelina Jolie (June 4, 1975) (This might be the most Gemini thing anyone has ever said...)
"I'm not saying I'm gonna change the world, but I guarantee that I will spark the brain that will change the world." — Tupac Shakur (June 16, 1972)
"Don't be lady. Be a legend." — Stevie Nicks (May 26, 1948)
"Those who dare to fail miserably can achieve greatly." — John F. Kennedy (May 29, 1917)
"My beauty is not about how I look. My beauty is about my heart and soul." — Laverne Cox (may 29, 1972)
"I emote. I love things so much. I weep at everything." — Chris Evans (June 13 1981) (Actually, this might be the most Gemini thing anyone has ever said.)
"A strong spirit transcends rules." — Prince (June 7, 1958)
"If I'd observed all the rules, I'd never have got anywhere." — Marilyn Monroe (She was so fabulous she needed a second quote!)