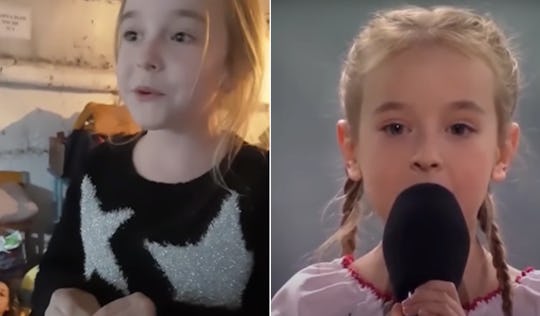 The Telegraph/ YouTube/ The Independent/ YouTube
Little Girl Who Sang "Let It Go" From A Ukrainian Bomb Shelter Goes Viral Once Again
"I would say thank you that you enjoy my singing,"
The lives of Ukrainian children have been inexorably changed in the weeks since Vladimir Putin ordered Russian troops to invade. Children who should be at school are instead fleeing their country and trying to survive in bomb shelters. How do they manage? Well in the case of a little girl named Amelia Anisovych, she offered the rest of the world a glimpse at the true resilience of children when she sang "Let It Go" from Disney's Frozen from inside a Ukrainian bomb shelter. Then, weeks later, when she gave a beautiful performance of Ukraine's national anthem at a benefit concert in Poland.
Earlier in March, Marta Smekhova of Kyiv shared a video on Facebook of Amelia singing from inside a bomb shelter they were sharing with other families and it instantly went viral. In cell phone footage, Amelia is seen being encouraged by a woman to sing. At first she seems quite shy and then, once she begins to sing "Let It Go" in Russian, the room around her stops and listens.
"From the first word in the [bomb shelter] came complete silence," Smekhova wrote on Facebook after the initial video was released, the video that inspired millions around the globe. "Everyone put their business aside and listen[ed] to a song by this girl who was just beaming light. Even men couldn't hold back the tears."
Those men weren't the only ones unable to hold back the tears. The video has now reached more than 13.5 million people around the world, with so many of them in awe of Amelia's courage and sweetness. "Even the babies stopped crying to hear the voice of an angel," wrote on Twitter user while another user shared the words of the Russian version she sang, "This. The Russia words she's singing (diff from English version): Let it go, and forget. What's gone - can't return. Let it go, and forget. A new day will show your path. I'm not afraid of anything. Let it storm. The cold is something I always liked."
Idina Menzel, the voice of Elsa from Frozen herself, shared the video with the message, "We see you. We really, really see you."
Weeks later, on March 20, Amelia performed for a different audience. The young girl sang Ukraine's national anthem for the "Together with Ukraine" benefit concert in Poland after arriving safely along with her grandmother, mother, and brother. Her song, her voice, helped to raise hundreds of thousands of dollars in aide for Ukrainian people.
"I would say thank you that you enjoy my singing," Amelia told the BBC after her family made it safely to Poland. "I practice singing every day in the morning, afternoon and evening. I rehearse, and that is why ('Let It Go') turned out so well." It certainly did. The world loved it.
Amelia is just one of so many innocent children whose lives have been torn apart by the ongoing conflict in Ukraine. And yet, she sings. And smiles. And finds a way to bring a little light — and help — to the people around her.
To help Amelia and kids like her, here are a few actions you can take right now to help families in Ukraine.
This article was originally published on