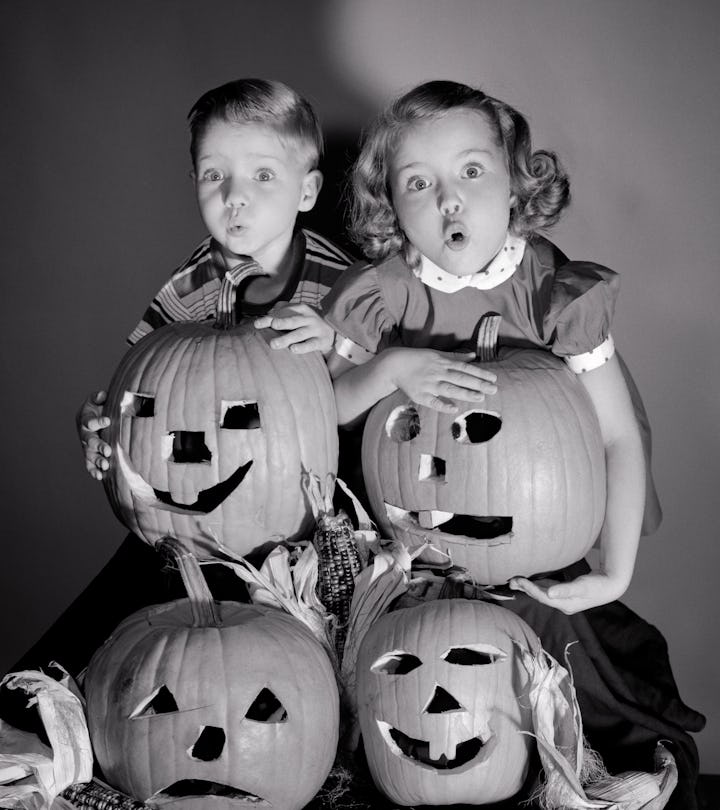 Debrocke/ClassicStock/Archive Photos/Getty Images
23 Frightfully Fun Facts About Halloween
Hand these out along with all that candy.
Ah, Halloween. That glorious time of year when we order a $50 taco costume from Party City, only to have our child say that actually, she wants to be Moana. A hint of cool in the hair and suddenly we all pretend we're farmers and ride on hay bales, and decide to eat fun-sized Twix like they're doctor-prescribed. And of course, it's that very special season when a quick stop at the pharmacy for some essentials means also listening to your child activate a screaming skeleton every few seconds. Halloween (or All Hallows' Eve, as it was originally known) has a pretty bonkers history, and there are all sorts of weird and interesting Halloween facts to be learned and shared.
Here, we've rounded up 23 Halloween facts about our favorite spooky traditions, beloved horror films, and the trick-or-treat candy we jam into our faces on October 31. I mean, when you think about it, Halloween is definitely one of our weirder holidays and so perhaps it's not totally surprising that there are lots of great little Halloween facts to know. You can totally bust these fun facts out at the neighborhood party, as you gesticulate wildly while wearing an inflatable cactus costume, or hand them out (along with plenty of candy) on Halloween night.
There you have it. Plenty of spooky Halloween facts with which to dazzle your kids' friends, as you try to distract them from the fact that you are now completely out of Tootsie Rolls. Happy Snap Apple Night to you!