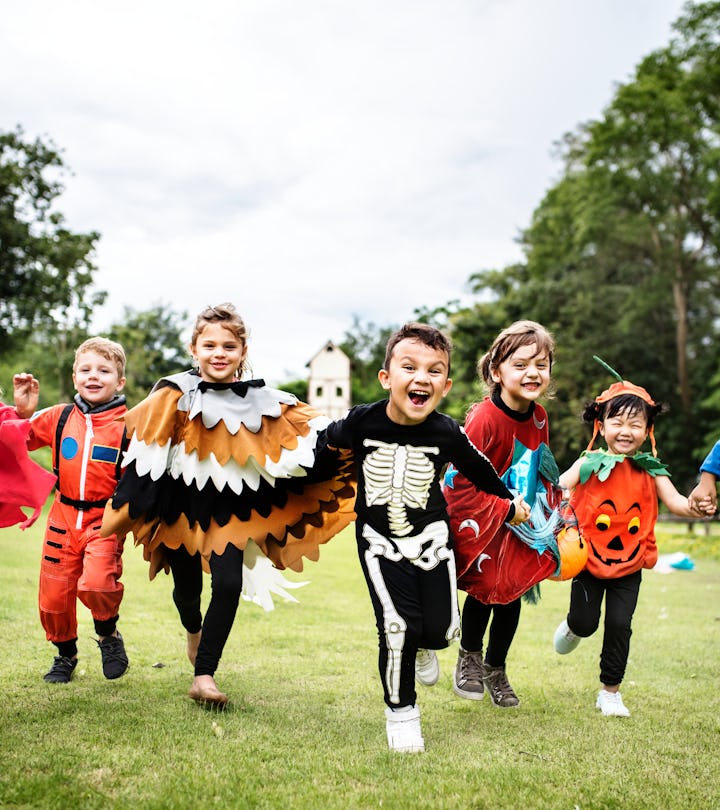 Shutterstock
10 Fun & Easy Halloween Games For Kids
Keep all the little ghosts and ghouls busy this October.
Perhaps you're throwing a Halloween party. Or maybe you simply don't want the entire holiday to revolve around your child coating their molars in Jolly Ranchers. No matter the reason, a great way to keep Halloween from being completely focused on candy and trick-or-treating, is to have some fun, goofy Halloween games for kids ready to go.
I remember when I was a kid, Halloween games weren't really a thing. Unless you counted toilet papering trees. Which of course wasn't so much a game, as it was a jerky thing to do to infuriate your neighbors. We did play bobbing for apples, which I remember largely because it seemed so unsanitary. Like, let's all put our mouths in this big barrel of dirty water, and try to bite at different pieces of fruit? This classic Halloween game is a hard pass for me.
But games are actually a really great way to make Halloween festive and fun for kids, without wasting valuable bathroom products. Below are ten Halloween games that are sure to induce some giggles, and maybe even some (excited) screams of low-key fright. From "Tentacle Tag" to the classic cold spaghetti trick (IYKYK) these games will keep the party going, even after you've had to hide the candy.
And now comes the scariest part of the whole night - when the kids are all in bed and you discover that your home is a total mess of fake fur, cold spaghetti, and crumpled toilet paper. Happy Halloween!