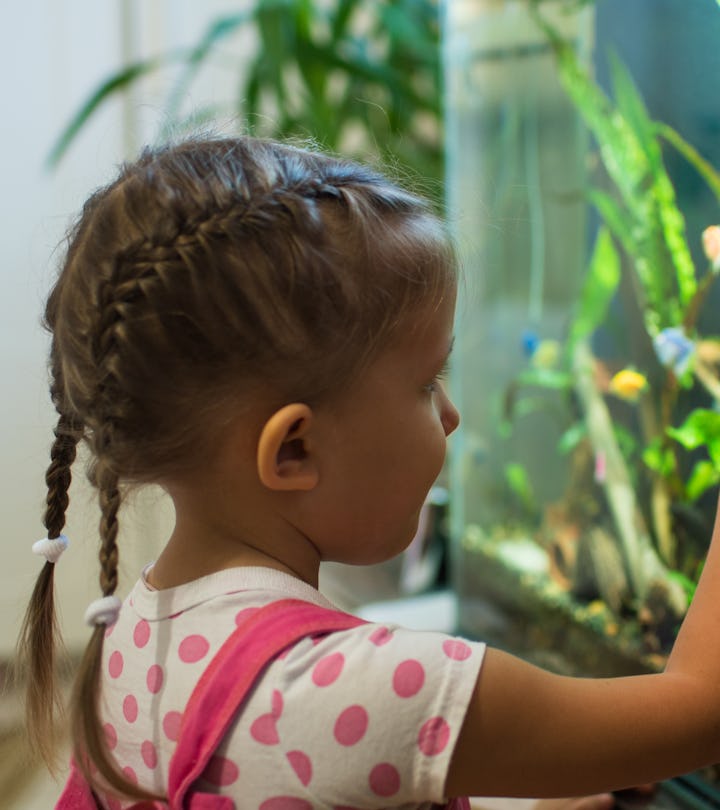 Shutterstock
If Your Kid Wants A Fish, These 12 Hardy Types Are Your Best Bet
Aquarium setups are so visually striking and peaceful, but the idea of keeping a bunch of fish alive can be daunting. That being said, by learning more about resilient fish that are hard to kill and are great for beginners, you can become a confident aquarium owner in no time. So how do you make sure they stay happy and healthy, without a premature trip to the great fish tank in the sky?
Before diving in, it's best to remember that maintaining an aquarium does require time and care. "We want to be sure that fish keeping is a responsibility and that fish are not regarded or treated as disposable pets," Eric Radi, aquatics content producer and aquarium expert at LiveAquaria, tells Romper. "Research your fish before purchasing to ensure compatibility with other fish, potential size, diet, and nutrition."
With a little prep work, you can learn how to create a great home for your new fish, but don't assume it will be any easier than owning other pets. "A lot of people get pet fish as a trial pet, because everyone assumes that it's less work, when they are absolutely no less work than a cat, dog, hamster, guinea pig, [or] anything like that," Dr. Jessie Sanders, DVM, CertAqV, owner and chief veterinarian of Aquatic Veterinary Services, tells Romper. "It's usually going to be a lot more work, especially when you're first starting out, because a lot of the times your filtration hasn't been established, which is something they don't tell you when you're picking out your fish [at the] store. The best advice I have is to plan ahead as much as you can, get the biggest tank you can, and try not to overload it with individual fish — and then be patient and make sure you do your regular maintenance."
With that in mind, there are a few species of fish that are probably best left to more veteran fish keepers. "Cardinal tetras, rummy-nose tetras, pencilfish, [and] celestial danios," for example, aren't necessarily the best fish for beginners, as Radi explains, as their needs can be demanding. But there are plenty of fish for kids and newbies, so read on to find out which ones.
With a bit of research and planning, it's definitely possible to start your first aquarium and keep it stocked with happy, healthy, and hardy fish that beginners and children will love. If you have questions about specifications in terms of caring for your fish, definitely ask your local aquarium expert at the pet store or vet.
Experts:
Eric Radi, aquatics content producer and aquarium expert at LiveAquaria
Dr. Jessie Sanders, DVM, CertAqV, owner and chief veterinarian of Aquatic Veterinary Services
This article was originally published on