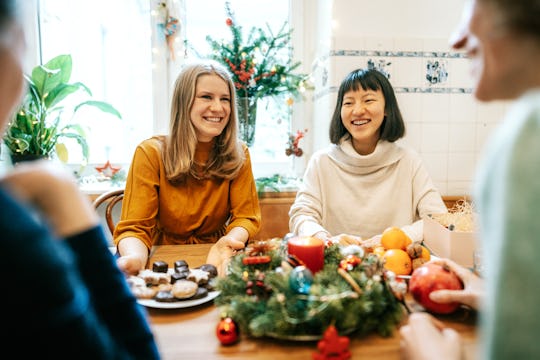 Nikada/E+/Getty Images
These Adult Holiday Party Games Will Get Those Festive Vibes Going
When it comes to the holidays, a lot of the attention is put on making the season as magical as possible for kids, but grown-ups deserve to have a little fun, too. Thankfully, there are a lot of fun activities for adult holiday parties that will bring plenty of cheer (or "cheers," depending on the game). It's a good thing, too, because after putting so much effort into making things as perfect as possible for the kids, grown-ups deserve a little joy for themselves.
For party hosts, planning out ways to entertain guests can be a bit of a challenge. If there will be a mix of kids and adults, you have to find games that can either be played by people of all ages or are totally separate from each other. Depending on the crowd, you may still be able to sneak in some fun activities meant for adult holiday parties even though there are kids invited, but games like "Christmas Punch Pong" might be better for adult-only gatherings, or until after the kids have fallen asleep or are tucked away watching Christmas movies (but, hey, it's your party, so you do you).
Regardless of what the crowd looks like, there are plenty of fun activities for adult holiday parties that are sure to entertain your grown up guests. Here are a few ideas to help you get started on your party planning.
Adults deserve to have a little fun during the holidays just as much as kids do, and these games are sure to add a little extra joy to your festivities. So, turn on your favorite holiday tunes, pour up a drink of whatever makes you feel jolly, and invite your guests to join in your reindeer games.