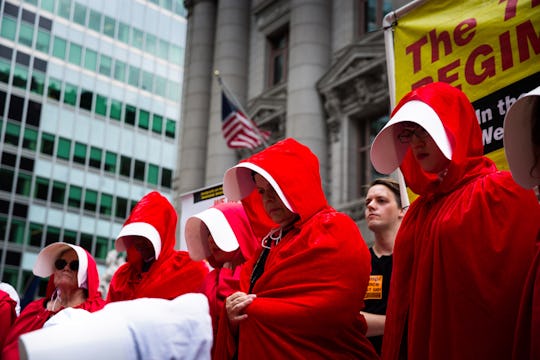 Kevin Hagen/Getty Images News/Getty Images
'The Handmaid's Tale' Taught Me That Resistance, As A Mom, Takes Many Forms
For me, the scariest part of the second season of The Handmaid's Tale wasn't when Serena's husband lopped off her finger for reading. It wasn't when June gave birth alone on the floor of an abandoned home, wolves sniffing nearby. It wasn't when Emily was sent to that creepy commander with his teasing threats. It wasn't even in Gilead, the dystopian future that strips women of nearly all basic human rights.
In the very first episode of the season, June and Luke return home with their daughter after taking her to the doctor's office for a fever. As June tries to settle sick Hannah into her bed, Luke turns on the TV to see breaking news unfurling: the Capitol Building and the White House have been attacked. Though we the audience know this is the beginnings of Gilead, the characters don't, and the apartment immediately fills with the anxious tension of unknowing, that desperate need for more information.
Luke is glued to the television. June is trying to watch, poised in the doorway between Hannah's room and the living room. Her child calls to her. Her child is sick and calls for mom. June, in that moment, has to choose between being a woman of knowledge, being a woman of power, being a woman in the world, and being a mother.
She goes to her daughter (really, what choice does she have?), laying tense in Hannah's bed as Luke consumes the information she's hungry for. She cannot have it. She must be a mom now.
I watched the episode when my daughter was just shy of three months old and could feel my heart break for June, my chest aching with understanding.
I have always considered myself an activist. I show up. I march. I carry signs and chant chants. I be there when things are happening. I was at the Women's March 2.0, full baby bump, ten days before giving birth. Protesting, volunteering for causes, helping to organize events, all these things felt fundamental to my personality — part of the very core of myself, something that made me, me.
Then my daughter was born and suddenly I couldn't do anything anymore. My husband would ask if I'd seen the latest news and I'd shake my head, no. It wasn't because I didn't want to know what was happening in the world — I did, desperately — but for those first months with a newborn, holding any thought in my head beyond baby was impossible. There was always too much to do (bottles, diapers, nap time, laundry) and never enough time to do it. Beyond that, it felt like the space in my brain that I used to devote to being politically aware was now literally filled with baby-related thoughts, somehow monstrously boring and at the same time steeped in importance: how many hours until the next bottle? How many wet diapers has she made? When should we try for the next nap?
It felt like everyone, friends, family members, people on Twitter, on Facebook, were screaming at me to do something. Show up here. Call your Senators. Write letters. Voice your opinion with Tweets and Facebook statuses. Raise funds. Donate. If you're not doing something, you're part of the problem!
The revolution was happening and I was doing nothing.
But I couldn't. First it was too cold to take the baby outside to the March for Our Lives, so I held her and wept at the thought of students gunned down in their hallways. Then it was too hot for the Rally to Keep Families Together, so I held her and wept at the pictures of children crying for their mothers. Or she'd slept poorly the night before and needed more nap time so we couldn't attend the volunteer training at 10 a.m. on a Saturday. Or getting to the place on the subway with an infant felt near impossible. Or the place didn't specify if it had ramps or an elevator for a stroller. Or it was at night after her bedtime. Or I couldn't be sure there would be a place to feed my daughter. Or I'd just returned to work and I was just too tired from living in a society that hinges the success of its children on second-shift work and emotional labor done almost exclusively by moms.
It came to a head on the Fourth of July when I found myself crying, rocking my screaming baby who was fighting her morning nap with all her worth, and scrolling through Twitter. The revolution was happening and I was doing nothing. Injustice and terribleness and downright horrors were happening everyday and I was doing nothing. It felt like the world was ending and I was doing nothing to help stop it, doing nothing but holding a baby. I felt weak. I felt worthless. I felt frustrated. I felt like a sham. I felt my biggest fear come true — lost to motherhood, the "barefoot and pregnant" symbol my feminist foremothers fought so hard against.
But, two weeks later, I watched the season finale of The Handmaid's Tale and felt an overwhelming sense of joy. It wasn't at Emily's dramatic escape from Gilead. It wasn't at Serena Joy's sacrifice for her daughter to live outside the patriarchal confines of the world she created. It wasn't even June's superhero walk back into horror, cape flapping behind her, determined to save her firstborn daughter.
You don't have to be the main character in the resistance to have an impact.
The moment that caused the joy, that overturned my scary hopeless sadness from the season's opener, was when Rita, the Martha, whispers her resistance. The Marthas, their quiet, underground railroad-like work to help women escape, the fact that we are not privy to their identities, the fact that their activism hinges on remaining secret, anonymous, the fact that it's likely Gilead history will know none of their names — their photos will not be in any newspapers, they will not make speeches in front of crowds. As individuals, they will not be remembered.
The Marthas, I thought, prove you don't have to be the main character in the resistance to have an impact.
Just last week, I was set to take my daughter to the Unite for Justice rally in New York City when she woke up that morning with her first fever. Our activism would not be big and public that day and that was okay. We headed the advice of other activist parents while staying local: we took our "Keep Abortion Legal" protest sign on a walk around the neighborhood, we donated to keep families together, we read A is for Activist and Nevertheless She Persisted and I Dissent: Ruth Bader Ginsburg Makes Her Mark.
And while she dozed on me for her late afternoon nap, I scrolled through coverage of the rallies around the country. But this time, I felt buoyed, hopeful. I watched her sleep and I thought about my work to raise her to feel the same passion as I do to act, and shout, and show up for what is right.
I will stay home with her now; she will march in the streets in the future.
Elizabeth Skoski is a freelance writer based in New York. Her writing has appeared in The Washington Post's "Answer Sheet," Huffington Post, Bustle, and others. Follow her on Twitter @lizskoski.