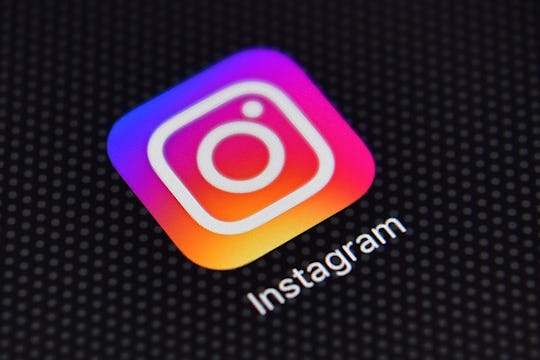 Carl Court/Getty Images News/Getty Images
Here's How To Do Rainbow Text On Your Instagram Story To Celebrate Pride
And every other day. Life is just better with rainbows, isn't it?
June 1 marks the kickoff of Pride month, where we celebrate the LGBTQ+ community. There will be parades, and the flying of flags, and hopefully a general feeling of support and inclusion throughout the month and beyond. And of course, people will be celebrating and sharing their support on social media. On Instagram, for instance, you can add rainbow text on your Story, not to mention a few other fun tricks to show your #pride on social media. So get ready to spend the month of June covered in rainbows... what could be better than that?
How add rainbow text on your Instagram Story.
You can make your text on Instagram Stories with rainbow colors, in addition to adding rainbow hashtags, mentions, Pride-themed stickers. If you want to do rainbow text on your Instagram Story, it's remarkably straightforward. All you have to do is:
Select text and write out what you'd like to post.
Select all the text. Tap the bottom right dot of the selected text so you're able to drag it all the way across to the left.
Next, press and hold any color in the color tray and it will automatically open the rainbow palette.
Here's where it gets just a touch tricky... Simultaneously using two hands, drag one finger to the left across the text and the other across the rainbow color palette going right. But go slowly and be sure to stop before you reach the first letter of your text.
Below is a great video tutorial on how to get rainbow text on your Instagram Story:
Celebrate #Pride on TikTok.
As the official sponsor of the LA Pride Parade and Festival this year, TikTok has announced a whole slew of Pride-themed content on the app including LGBTQ+ hashtags, playlists, and even a list of LGBTQ+ trailblazers in the TikTok community who you should be following. Austin Cho for his "Cool Single Uncle" series, Chrissy Chlapecka for their authenticity and warmth, and Dylan Mulvaney for her "Days of Girlhood" series are just a few of the content creators TikTok is spotlighting this month.
What's the meaning behind the rainbow?
Back in 1978, artist and drag queen Gilbert Baker was encouraged by Harvey Milk, one of the first openly gay elected officials in the country, to create a unifying symbol of pride for the LGBTQ community. He chose a rainbow flag and identified the colors as "hot pink for sex, red for life, orange for healing, yellow for sunlight, green for nature, turquoise for art, indigo for harmony, and violet for spirit."
Pride Month is a great time to let everyone know you support the LGBTQ+ community, and what better way to make sure that message reaches the far corners of the earth than by spreading the love all over social media?
This article was originally published on