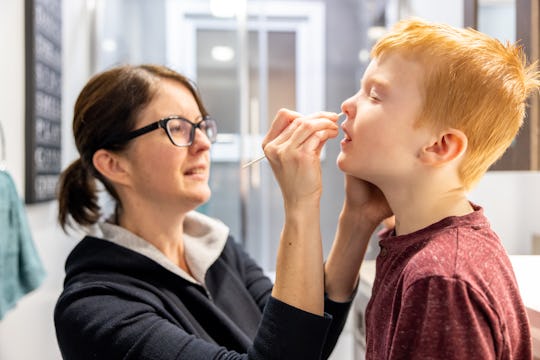 Onfokus/E+/Getty Images
Here's How To Get A Free At-Home Covid Test For Yourself & Your Kids
You can order tests through the newly launched COVIDTests.gov now.
As the Omicron variant continues to wreak havoc on hospitals, schools, and American society at large, demand for at-home rapid tests has increased substantially. Unfortunately, such tests are often pricey and difficult to come by. But help is on the horizon for families in need of tests. As manufacturers rush to get more tests on store shelves, the Biden administration announced that, starting on Jan. 15, private insurers must now cover the cost for eight rapid tests per month. What's more, the Biden administration rolled out covidtests.gov on Tuesday, enabling American households to order up to four at-home rapid tests free of charge.
"Testing is critically important to help reduce the spread of Covid-19, as well as to quickly diagnose Covid-19 so it can be effectively treated," Centers for Medicare and Medicaid Services (CMS) administrator Chiquita Brooks- LaSure said in a statement on Jan. 10. "Today's action further removes financial barriers and expands access to Covid-19 tests for millions of people."
More than 142,388 Americans were hospitalized with Covid-19 as of Jan. 9, surpassing last winter's peak and up a staggering 83% from two weeks ago, according to data from the Department of Health and Human Services (HHS). While the Omicron variant responsible for the spike in cases continues to appear less virulent than previous variants — with less severity and fewer fatalities overall — the sheer number of cases has overwhelmed hospital systems across the country. The Biden administration hopes that increased access to testing will help to curb the spread of the virus and enable hospitals to remain functional and schools to remain open.
At-home Covid-19 tests, also called rapid antigen tests, enable families to check for the virus at home in a way that is fast and easy to self-administer. While at-home tests are more likely to return false-negative results than PCR laboratory tests, they can still provide a way to mitigate exposure and transmission risks. Currently, the U.S. Centers for Disease Control and Prevention (CDC) recommends self-testing if you experience Covid-19 symptoms or have been exposed to someone with the virus. The CDC also recommends using self-testing before attending large indoor gatherings or meeting with unvaccinated children, older individuals, immunocompromised individuals, and those at-risk of experiencing severe illness from Covid-19.
While Biden's mandate to private insurers cannot put tests on shelves, it can help alleviate costs (anywhere from $14 to upwards of $30 or more for a package of two tests) that have heretofore created barriers to sufficient testing.
How To Get A Free At-Home Covid-19 Test Through Private Insurance
According to the Jan. 9 statement from CMS, beginning Saturday, Jan. 15, individuals with private insurance coverage (approximately 45% of Americans) who purchase an FDA-approved, over-the-counter Covid-19 test will have those costs covered by their insurance plan. Individuals are entitled to the eight free tests per month — in other words, a family of four would be entitled to 32 over-the-counter tests every month. (There is no limit, however, on the number of tests that are covered if ordered or administered by a health care provider.)
Precise protocols will depend on one's insurance plan, but purchasing tests via private insurance will not require a doctor's prescription or appointment, nor deductibles, co-payments, coinsurance, prior authorization, or other such requirements. Generally, it will happen in one of two ways: either an individual will be able to obtain tests directly from preferred/in-network pharmacies simply by showing their insurance information, or they will file a reimbursement claim. Should one purchase a test out-of-network (for example, if one purchases a test from Walgreens when their in-network pharmacy is CVS), insurers are still required to reimburse tests purchased by consumers for the cost of the test up to $12.
Unfortunately for those who've already stocked up on tests, insurance companies will not reimburse the cost of at-home tests purchased before Jan. 15.
How To Get Free At-Home Covid-19 Tests From The White House
In late December, the White House announced plans to purchase half a billion at-home rapid tests, which it would distribute to American households free of charge. As demand for tests increased, the White House doubled the number of tests it planned to secure on Jan. 13, ordering a total of a billion tests, according to Reuters. The White House will supply up to four at-home tests per household with help from the United States Postal Service (USPS). But tests won't come to families automatically.
Those looking to secure at-home Covid-19 tests from the White House will need to visit covidtests.gov, which opened for orders ahead of schedule on Tuesday. Once there you'll want to click the "order free at-home tests" button, which will redirect you to a USPS order form. There, you'll fill in your contact information and shipping address before checking out and receiving an order number (which you may want to save for your records).
Each order includes four individual rapid antigen Covid-19 tests, according to the USPS website. As of Tuesday, orders could not be adjusted to include fewer tests and are limited to one order per residential address. Orders will ship for free starting in late January, according to USPS.
Are At-Home Covid-19 Tests Available For Free Anywhere Else?
At the moment, finding a free at-home Covid-19 test can take some work. But they are out there — at least for some families in certain states.
Some States Will Mail Tests To You
Residents of some counties in Washington state and New Hampshire can access free at-home Covid-19 tests through Say Yes! Covid Test, a website has partnered with public health departments in select communities.
Residents of Colorado can have a free at-home Covid-19 test delivered right to their house through a program established by the state's Department of Public Health and Environment. To order a test, residents must complete an enrollment form online.
Families in Iowa can also request a free at-home test kit via mail or local pick-up through the Test Iowa website.
A Few Local Health Departments Have Tests Available For Pickup
Residents in Maryland's Anne Arundel County can pick up a maximum of two free rapid at-home tests at various distribution sites throughout the county while supplies last. An updated list of distribution sites can be found on the county's website. Be sure to check your local health department's website.
Try Your Local Library
Residents in a handful of states can head to their local library and take home a free at-home Covid-19 test along with their next great read.
Families in other states and areas are encouraged to check with their local library or health department to see if they may be offering a similar service.
This article was originally published on