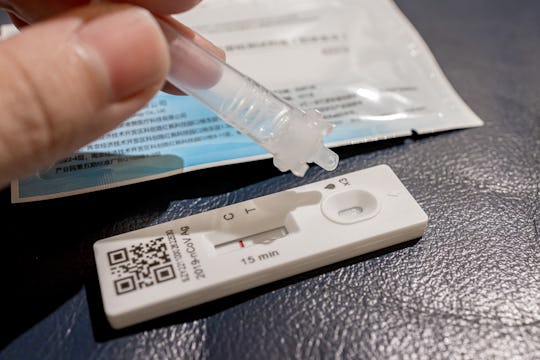 VCG/Visual China Group/Getty Images
Here's How To Get Your Free At-Home Covid Tests From The Government In 2023
Starting Sept. 25, every household in the U.S. can place an order online to have four free Covid-19 delivered to their home.
Cooler weather is around the corner and so are more sniffles, coughs, sore throats, and fevers. With Covid hospitalizations on the rise once again, the federal government is providing families with more free at-home rapid test kits. Here's what you need to know to order yours today.
How do I order free Covid test kits in 2023?
Starting Sept. 25, every household in the U.S. can place an order online to have four free Covid-19 rapid antigen tests delivered to your address. Go to covid.gov/tests and click the link the says "Order Free At-Home Tests." You'll then be redirected to a website for the United States Postal Service (USPS) where you'll enter your name, address, and email if you'd like shipping notifications. If you don't want to place your order online, you can call 1-800-232-0233 (TTY 1-888-720-7489).
When will my free Covid test kits arrive in the mail?
The USPS will begin shipping out the free Covid test kits the week of Oct. 2. The last time the government sent out free Covid tests, the USPS reported that packages were delivered in one to three days after they were shipped, so families could expect a similar timeframe this time around as well. Every residential address is limited to one order of four free Covid tests.
What if my free Covid test kits say they're expired?
If your free Covid tests from the government arrive with an expiration date that's already passed, be sure to check the brand and date on the Food and Drug Administration's (FDA) website. The FDA has extended many test kits' expiration dates, including some popular brands like Binax NOW and Flowflex.
You can check the FDA's list of Covid test expiration date extensions here.
When should I take an at-home Covid test?
If you start having symptoms like a fever, sore throat, runny nose, or loss of taste or smell, you may want to take a rapid Covid test. You can also take an at-home test at five days after you've been in close contact with someone who's tested positive for Covid-19. You can also consider taking a test if you are going to be in close proximity with someone who is at risk of severe disease or is not up-to-date on their Covid vaccines and boosters.
Can I use the free at-home Covid test kits on my child?
Yes, at-home Covid tests can used on children older than 2 years old, as long as they are administered by an adult. For younger children and babies, however, the American Academy of Pediatrics (AAP) notes that currently "no at-home antigen tests have been authorized by the FDA for use in children younger than 2 years."
Wilbur Lam, an associate professor of pediatrics and biomedical engineering at Emory University and Georgia Institute of Technology, told The Washington Post that advice is simply due to how the kits were tested. "Yes, you can [use at-home test kits on a baby]. All the studies assessing whether these tests work were in people over 2," Lam told the newspaper in 2022. "That's all. It's not dangerous to use the tests on kids under 2."