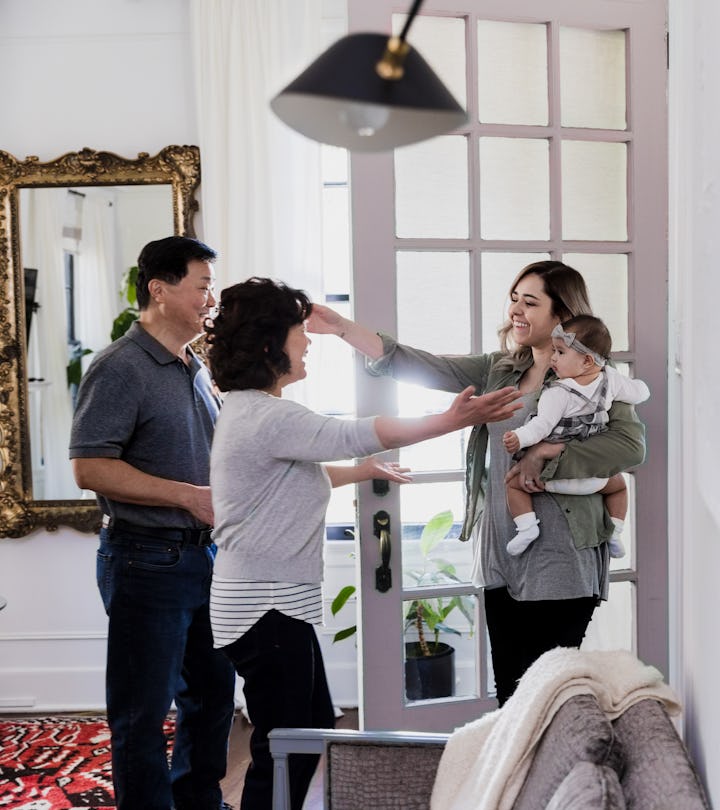 SDI Productions/E+/Getty Images
How To Set Boundaries With Your In-Laws When You Have A New Baby
Because it's important for everyone.
Setting healthy boundaries with your partner's parents after marriage is one thing, but having to reset new boundaries with your in-laws after having a baby comes with its own unique obstacles.
As I sat in my hospital bed, bleeding onto a pad, covered only by a gown and thin sheet, my stepmother-in-law walked into my hospital room with my father-in-law, walked right past me and over to my newborn son, asleep in his bassinet. Without permission or even a "How are you feeling" to me, she lifted his sleeping form and showed him to my father-in-law, declaring, "he's too skinny."
I can't possibly tell you what I was thinking in that moment beyond "um, huh?" At that point, I'd been in the hospital for a few days, recovering from a difficult birth that required intense postpartum care and a blood transfusion. My son was slow to nurse, and we'd just decided to supplement for a time with formula. What I do remember feeling was abject horror as she then proceeded (again, without permission) to grab one of the "ready to feed" bottles of formula from under my son's bassinet, rip off the top, and starting feeding my son. This was the very first meal he'd eaten that wasn't a wash of tears at my breast. I looked to my husband who was as shocked as I was. We didn't know what to say or to do. How on earth do you react to such audacity? I gave him a look, and after a minute he said, "I'll take over." After some back-and-forth and a bit of his own look towards his father, my husband grabbed our baby and his bottle, sat next to me on my bloodied pad (my crappy postpartum care in my glamorous New York City Hospital in a private suite a tale for another day), and we fed our child as my stepmother-in-law went around the room remarking on the potential costs for such place, all the while still not acknowledging my presence.
Unfortunately, that was not the only time when our parents would overstep in their eagerness to see our children. My own parents are equally as guilty of disrespecting our boundaries when my children were babies. I've learnt enough from this to understand that boundaries aren't a stop sign; they're a map, and every family needs to be using the same one. But how do you set boundaries with in-laws when you have a new baby? How do you recognize how excited everyone is, while also anticipating your own needs? I asked my friend, psychologist Dr. Dara Bushman, to help us navigate this delicate situation.
You don't need to figure all of this out in one day. Setting these boundaries with your in-laws is going to be a process that is ongoing for basically the next 18 years, maybe even longer. There will be disagreements, with everyone — including the baby, because they are highly picky and might hate one of their grandparents and then that grandparent might blame you for absolutely no reason. (It's a baby, Janet. Maybe they don't like your perfume. It's not my fault!)
As long as you and your partner are a team and show up for each other in these situations, and give yourselves grace when people (yourself included) are bound to change their minds, you'll get through it, and hopefully won't end up posting an "AITA" thread on Reddit. (Or in the JustNoMIL group.)
Expert:
Dr. Dara Bushman, psychologist
This article was originally published on