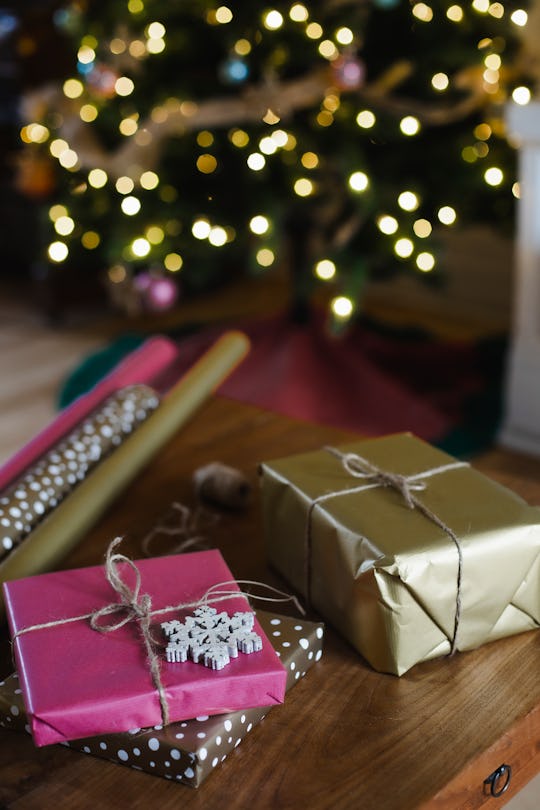 Linda Raymond/Moment/Getty Images
How To Wrap Gifts If You Run Out Of Wrapping Paper
Wrapping paper is the new toilet paper, so here's how to get your gifts wrapped if you run out.
We are T-minus two days until Christmas, and like many of you, there's a flurry of activity happening at my house — aka Santa's Workshop. We are putting teacher gifts together, checking shipping updates constantly, and of course, wrapping presents. Now would be a really unfortunate time for there to be a wrapping paper shortage, especially because it brings back memories (nightmares?) of searching for toilet paper and Clorox wipes at Target not so long ago. But, have no fear, friends. There are plenty of affordable and creative ways to wrap gifts without wrapping paper if such a nightmare does indeed happen.
From empty potato chip bags to good ol' fashioned newspaper pages, there are plenty of whimsical and easy ways to decorate gifts should you need an alternative to wrapping paper. Let's put the emphasis on "easy", because frankly, we all need something to be uncomplicated and go according to plan at the end of this very long year. And listen, if you just want to throw Dad's new socks in a gift bag and call it a day, you'll get no judgment from me. But who knows? You may find this little bit of creativity a welcome break from the stress of tracking your shipments and waiting for the delivery guy to arrive at your door.
But wait, there's more! Additional ideas include around the house items like fabric and wallpaper scraps, old maps or construction paper. Happy Holidays, mamas! And remember: make sure there are a few things for you under the tree, too.