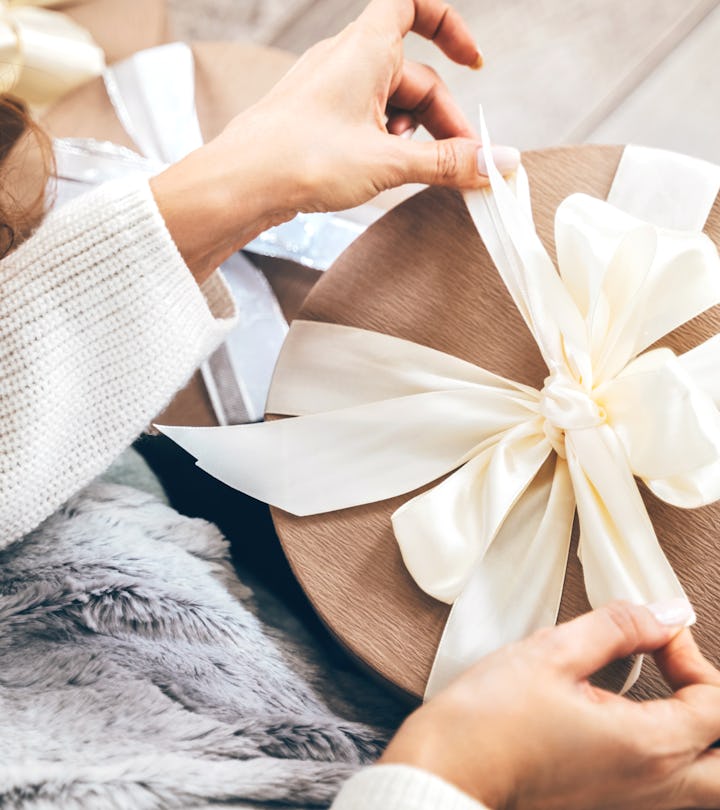 Yana Iskayeva/Moment/Getty Images
How To Wrap Oddly Shaped Gifts Without Any Magical Powers
It's not as hard as you think.
A few years ago, I bought a special gift that came packaged in a tube. Because it wasn't flat or in a box, I had no idea how to wrap it. The recipient ended up with a great gift in less-than-presentable packaging, and I ended up with a crash course in how to wrap oddly shaped gifts. This knowledge is an essential part of surviving the holidays as an adult, otherwise your kids might wind up with a bunch of unwrapped toys under the tree because you don't know how to wrap them.
From spherical objects like soccer balls, to wine bottles, fluffy teddy bears, and little trinkets that just aren't square enough, sometimes gift-wrapping can present a challenge. You could always put your gift in a box or gift bag to make gift giving (and life) so much easier, but then you have to hunt down the perfect box or bag. You can even utilize the "just-stick-a-bow-on-it" method if you want to, but what if you want to actually wrap the item itself? It's unquestionably more fun to open a gift that has been wrapped than one that's been stuck in a bag (or simply topped with a bow). Follow these tips for how to wrap your oddly shaped gifts and you'll be a regular gift-wrap guru in no time.
This article was originally published on